Pop Watch: Pushing Daisies, Season 1, Episode 8 "Bitter Sweets"
Pop Watch: Pushing Daisies, Episode 8 " Bitter Sweets"
Wow, that was maybe the most jam-packed Pushing Daisies episode yet. Funny lady Molly Shannon turned up as the owner of a taffy business that was trying to steal the Pie Hole's customers, Ned solved a murder and ended up framed for another, and Olive had a new romantic opportunity — if only she could have recognised it. But my favourite thing about the episode was how much we learned about Ned. Here's some more of my thoughts: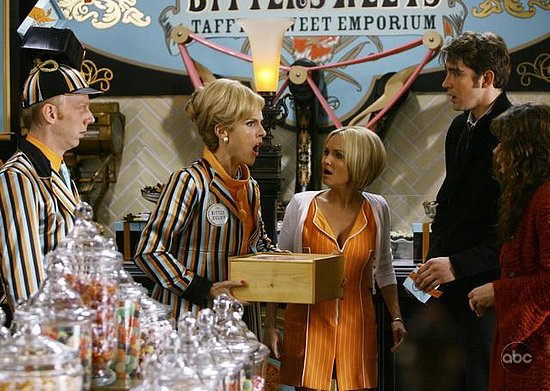 The Young Ned flashback taught us that Ned doesn't retaliate against bullies, as well as reminding us that he has serious intimacy issues. The first came into play in the story with Dilly Balsam; the second put Ned's relationship with Chuck on the rocks when he had to decide whether to finally tell her the truth about her dad's death. I like this more brooding Ned.
The show got its first murder mystery of the night out of the way quickly (the Real Doll did it!), so we could focus on Dilly Balsam's Bittersweets Taffy and Sweets Emporium. The Taffy vs Pie scenes were some of my favourite from the show yet: Ned's sign getting changed to "Pie Ho," the health inspector discovering Ned's pantry of rotten fruit, and Chuck and Olive going all cat burglar on Bittersweets, sneaking in to deposit some rats in the taffy kitchen – "Don't mess with the pie hos!"
For some more of my thoughts and to read your own, just read more
But then Ned was framed for Billy's murder. When Ned stuck his hand in the taffy vat, I figured he'd be pulling out an alive-again, taffy-covered rat; not an alive-again, taffy-covered person. With Ned in jail, Emerson actually had to do some real detective work to find the nine-fingered killer; I liked that we were led to believe it was Dilly because of the big, goofy gloves she wore, as well as the shot of the drowning, fingerless hand.
Ned's stint in jail gave him ample time to resolve not to tell Chuck the truth about her father, but then he blurted it out anyway. I wonder what that does to Chuck's assurances that Ned was her boyfriend; I'm guessing she's not going to take this well.

Oh, Olive. Alfredo loves you! Go with it!
There were a couple of moments this week when a cheesy line made me cringe a little — but then a great follow-up made me regret it. Case in point: "The Piemaker considered how not telling Chuck the truth about her father was a lot like being locked in a prison. Then he considered that being locked in a prison was actually much worse than some silly metaphor about truth."
I loved Ned turning the leaves in the leaf pile from brown to green to brown again. Brilliant!
Also loved Chuck's description of "Hello": "That says: 'I'm here! Your turn to talk! That's kind of selfish."
My favourite Emerson line: "The truth ain't like puppies, a bunch of them running around and you pick your favourite."
I always like Chuck's wardrobe, but her looks this episode were particularly covetable, especially the brown dress with the dots.
Will Chuck be able to forgive Ned? Will Dilly continue to terrorize the Pie Hole? We'll find out next week. Let me know what you thought of this ep!