Pop Watch: Pushing Daisies, Season 1, Episode 9 "Corpsicle"
Pop Watch: Pushing Daisies, Episode 9 "Corpsicle"
After the short season of Dirty Sexy Money ended last week with episode 10, sadly this week's ninth episode of Pushing Daisies is also the season finale, due to all that striking the writers' did last year. But fear not, if you need another Daisies fix, those nice people at ITV have also decided to put the episode that they missed out (episode 2 aka "Dummy") online, so you can watch it here! But for now, here's my thoughts on last night's episode: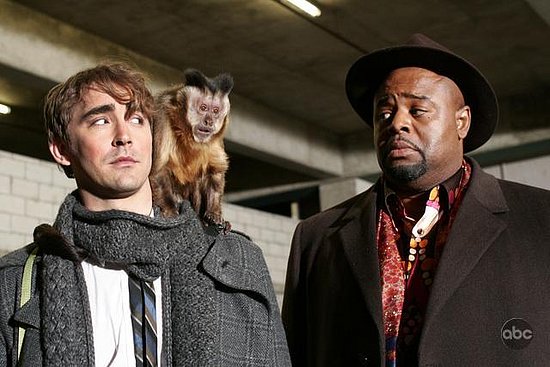 For its final episode this series, the show left on a high note – with a great balance between drama and giggle-inducing cleverness.
I was so happy to return to Young Ned's Play-Doh world. It set the tone perfectly for the episode, which was oh-so-cute and yet oh-so-heartstring-tugging — from the aunts comforting Ned and Chuck on the day they both lost their parents to Lily's drug-induced revelation at the end.
For more of my thoughts and to leave your own, just read more
Lily is Chuck's mum? Whoa! I'm glad there's something tying the aunts (er, mum-and-aunt duo) tighter into the series, but I totally was not expecting this.
Does that explain Lily's caustic nature — I mean, "motherly" wouldn't come to mind — I wonder how much of that is due to losing her only daughter. Also, does Vivian know? Chuck certainly doesn't seem to.
Oh, and poor Chuck. She's usually so chipper, but she was really down in this episode — no surprise, given that she'd just learned her soulmate killed her dad. She came so close to letting Oscar know her secret, but she pulled back, so now the only person who knows is Olive, who thinks the whole "I was dead" thing was just a way for Chuck to stop talking.
It would be easy to skip over the Corpse of the Week, but the case offered some comic relief in a heavy episode. It must have been fun for the writers, who usually work with such cheery material, to create the character of miserable little Abner ("I said lap dance, not tap dance!").
And Emerson has a daughter! Yet another new secret.
As much as I loved Emerson and Ned's exchange with the coroner in his holiday jumper, Emerson's line was my favourite: "And you slipped in word vomit and fell on your ass and now you're covered in word vomit."
Oscar calling a bludgeoning "a unique sensory experience" was super creepy. I hope he's back when the show returns.
So, now I want to hear from you – do you think it was the right call for Ned not to wake up Chuck's father? Could Lily's revelation be just a hallucinatory rant? And how will you cope with that cliffhanger? I already want this show back! Don't forget to check out episode 2 online and let me know what you think of that one too!