Pop Watch: Recap Of Spooks: Code 9, Series 1, Episode 1
Pop Watch – Spooks: Code 9, Episode 1
Wow, Spooks: Code 9 began with some thrills and spills, as well as a rather bleak view of the future of the UK. Code 9 is a nuclear attack in London that happens in 2012, and one year later a crew of six good-looking young people are put together as a new MI5 team to fight the terrorist threat. If you want to find out more about the premise, then check out my introduction to the series, but here's my thoughts on yesterday's opening episode (my thoughts on the second episode will follow this afternoon)!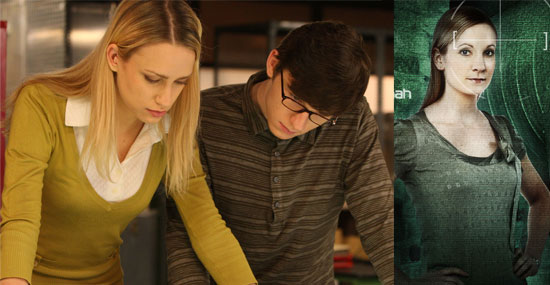 Right, so in the Code 9 nuclear bomb blast in London over 100,000 people are killed, and even more are dealt a death sentence from the radiation. Bleak.
So here's the team. There's Jez – a former petty criminal – he says he's there because "the straight guys" didn't exactly save the world. So, he's edgy then. I like him though.
Rachel is blonde and beautiful, looks like she's stepped out of a magazine, and apparently used to be a police officer. I'm hoping she'll actually put a little more feeling into her lines as the episode goes on, because... oh sorry, I think I nodded off. But she says something important: terrorists are getting younger which means the MI5 is turning to recruiting younger people to find them, which makes the fact that this new bunch of recruits look like they should be in Hollyoaks or something similar make a little more sense. Not that that's a bad thing...
Rob was a medical student, and seems a touch arrogant to boot? Vik was an entrepreneur who wants to protect the country. And redhead Kylie was in London when the blast hit, she was unhurt but is sick from the radiation. She used to be a psychology student.
To read the rest of my thoughts on the episode, with spoilers, just read more
We fast forward to one year later, after their training is over. It's now 2013.
The things women will do for their country – Kylie's dancing and making out with a suspected terrorist. The times, they are bad. Rob's line – "She's on top of things" – when Kylie was making out with the terrorist guy, made me feel a little icky. Sure it was meant to be funny, but Rob just got a minus point from me.
Side note: post London-bombing, everything has relocated up north.

Hmm, Rachel still can't quite manage to put effort into anything she says. This could prove to be annoying.
The make-out terrorist guy's cohort follows Kylie to the loo where Rob is in waiting, and a big fight occurs. Does anyone else think the club's toilet makes it look like a club from Skins? Anyhow Kylie and Rob get what they needed, and it's a success!
Meanwhile Jez and Vik are undercover elsewhere under the guise of monitoring stock. Jez's line – "I must have missed the scene where Jason Bourne was stacking shelves" – made me giggle.
So, it turns out their recruiter and marginally older colleague Hannah is training Rachel in "calm authority"... perhaps that is why she's dead behind the eyes? I kid, I kid. I'm sure in time she will warm up a little.
The boys run into another guy – they don't know him, but I recognised him from the promos – Jamie Bell-lookalike Charlie. Hannah also knows him – he's the final member of their team, a mathematician.
The new team bond over shots at the house they seem to share. Being in the MI5 seems like fun – rather like being in a student dorm? Although I suppose all the events that have led them there weren't actually that great...
Enter patronising smarmy Neil, who knows Hannah. He's mysteriously trying to get her to leave the MI5, like he did. "Come on over to the slightly darker, but much more fun side." She's loyal though, and believes in her new charges. "Never say I didn't try to throw you a life line" he says, what a weird thing to say.

Hmm, Charlie is very much a nerd – and likes to prove it often by talking in statistics etc, just in case we forget he's a mathematician. Although perhaps that is how mathematicians speak. I don't know too many. He is pretty quietly cute though.
Rachel and Charlie share a quiet moment out on the terrace – will romance blossom? (Maybe if she develops a personality? Sorry.) Rob obviously likes Rachel too... is some possible tension a-brewing?
So all of them live at the house except Jez, who we also find out spends an evening each week going to check whether his family have been found after the bomb blast. A helpful bit of back-story that gives us an indication of why he changed his life around – he wants to get revenge on the terrorists. This bit brought up some eerie memories of the following days of 9/11, with the walls of photos and missing people notices.
So, down to the nitty gritty of the episode: The PM is on his way for a visit and they have six hours to prepare to prevent a hit on him.
Turns out the possible assassin is fifteen years old. Wow, they are getting younger. Seems the whole ridiculous shopping centres vs hoodies campaign was right?!
Charlie is on the case, he knows something's not right as the assassin is in place way before the PM is due... and then Hannah is shot! It's the whole Lisa Faulkner in the deep fat fryer shock character death incident all over again (from the original Spooks series if you're not following... ). Hannah dies. It's very sad.
However, it does cause some kind of emotional reaction from Rachel. Which I was kind of thankful for. This being the future and everything I was starting to think she might be a robot...
The child-assassin falls off the roof, after Jez tries to save him. Hannah was his intended target all along. The team strike out on their own, after Charlie asks their superior for five and a half hours to give them a chance to sort things out.
They track it all back to smarmy Neil. I knew smarmy Neil was trouble. And apparently not too high up in things, as next thing we know he's been stabbed in the back. Oooh, mysterious.
So it ends with the news that Charlie is now their Interim Team Leader... and a guy gives him a USB stick with a message from Hannah on it. What will she say?!
So, what did you think? Are you intrigued by Spooks: Code 9?
Stay tuned for my thoughts on episode 2. If you only caught the first one or neither then you can watch them on the iPlayer, or it's repeated on BBC3 tonight and throughout the week. Can't wait to hear your thoughts!