Pop Watch – Spooks: Code 9, Episode Four
So this week's episode of Spooks: Code 9 wasn't great. Last week's episode had Jody Latham to add some interest, this week's episode sadly revolved around fembot Rachel and her "dead behind the eyes" stare. She's sucking the life out of Charlie too, slowly but surely. Anyhow, you can read my thoughts below and be sure to let me know what you think!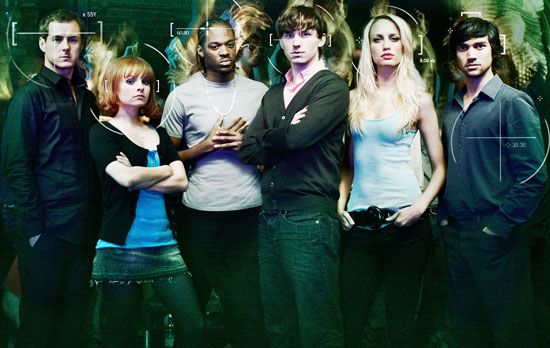 So we start with an ad for Reconnected UK – a private business set up to rival the official Missing Persons service following the blast.
Out of the blue, a dead body falls out onto car with note on it saying MI5 Informer. Turns out the informers are dropping like flies. Therefore the informers are afraid to speak to our team of young agents...
Rachel the fembot goes undercover, and only Charlie knows. The rest of the team think she's in hospital after a "stabbing" at Vik's birthday party. She's actually investigating all the Hannah stuff, trying to find out who "the Ghostman" is...
For more of my thoughts and to leave your own, just read more
...and possibly trying to find out where on earth her emotional range is. Just one line with feeling, that's all I'm hoping for. Does anyone else think she also seems to be dragging down Charlie with her? Sad.
The rest of the team are working on the MI5 informer thing. Mostly unsuspicious about Rachel being "stabbed" at Vik's birthday party. Her policeman ex-colleague is the only one suspicious about her "stabbing" later in the episode, and he's quite obviously evil.
By the way, I really hope Charlie and Rachel aren't supposed to have chemistry. There are no sparks.
Ooh yes, that's better – let's focus on smarmy Rob and his medical mystery. The less of the fembot, the better!
Hmm, Rob's dead colleague nicked his girlfriend before mysteriously being found dead after the bombing. Although he died before the bombing. He looked jealous in the last episode? Should Charlie fear for his life?
I enjoyed Kylie and Rob's interviewing techniques, and the "button bomb". That made me smile. Again, note the lack of Rachel in this enjoyable scene.
Oh, we're back with her again. And Luke. Who's acting the fembot off the screen. When the bit part actors are so much better than the regular cast it's a little worrying for the series, right?
Is Rachel really the best person to try and talk someone out of suicide? Granted he's a red-blooded male and she's very attractive. But... her voice. Her "dead behind the eyes" stare... need I say more?
So, Luke brought the men behind the bomb into the country - they're still alive, and he smuggled them back out of the country. One of the men that was jailed was set up.
And the policeman we knew was evil along shot Luke... I thought that might happen. Rachel shows a little emotion – seems she only cries when people get shot (see Hannah in episode 1).
Back with Jez and Kylie who are rescuing an informer, before they're attacked. Why did Kylie lie on the car to shoot at the attackers, why didn't she get in and hang out the window like the other dude? Hmm, seems this slowly dying of radiation thing makes you a little reckless!

OK, I have to admit I've rapidly lost patience with this series. Jody Latham's appearance in the last episode perked it up for me, but this week's episode tried my patience. Maybe it was all the Rachel. Too much Rachel.

Is anyone else enjoying it? Or even watching it? I'm curious...