PopSugar Poll: Angelina Talks About Filmmaking — Interesting or Too Intense?
Angelina Talks About Filmmaking — Interesting or Too Intense?
Angelina Jolie and her family have been in Budapest for the last month while she works on her still-untitled directorial debut, with Brad Pitt making frequent cameos on set to photograph the proceedings and maybe even scoring a role as an extra. She recently granted an interview to a Hungarian outlet about the movie, saying she's tried to focus on the Serbian/Muslim love story aspect. The actress, who just donated $150,000 to an adoption organisation, says she was compelled to make a film that sheds light on the human cost of war. She said: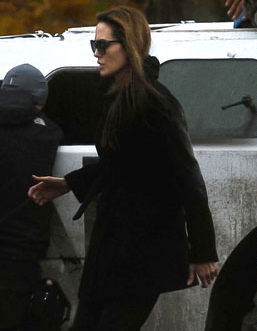 On getting the idea for the film: "I've had a lot of frustration with how long it takes to intervene or understand what's happening within a conflict and for the world to give assistance to these people in need, and get the right information out to the international community. I've met with so many people over the years, and in some way this story could take place in any country. The essence of it is we meet people on the eve of the war and we see what their lives could have been. We meet them as young people, and it's a lot of hope and wonderful lives that come out from Yugoslavia."
On the movie being political: "My goal was try to talk to people from all sides of the situation and allow them to have a voice. Allow them to have to go through what they went through and express it whether it be extreme cruelty or the loss of humanity or the extreme sense of hope or the beauty, whatever it was. . . If there's a political statement it's that hopefully people will watch it and say where was I when this was happening? . . . And next time when this happens what can we do to prevent [it]?"
On loving directing: "From the very first day I've loved it more than I've ever loved acting. I've always loved being an actor but there's something about being a director where you really get to know the crew and the actors so much more. You really become part of the team."
The rare interview from Angelina gives great insight into her work, especially considering the delicate subject matter of her project. So, tell us what you think of Angelina sharing about her filmmaking — interesting or too intense?