PopSugar UK Interview With Me and Orson Welles Cast Zac Efron Claire Danes Richard Linklater, Zac Talks Footloose and Fans 2009-11-20 06:53:19
PopSugarUK Meets the Me & Orson Welles Cast: Zac Talks Footloose & Finding Seclusion, and Claire Talks Flirting!
Yesterday I was lucky enough to spend an hour with Zac Efron! He and his castmates in Me and Orson Welles, Claire Danes and Christian McKay, talked about their new movie in a Q&A session with UK journalists alongside their director Richard Linklater. Zac looked handsome and casual in a blue t-shirt and jeans, and fiddled with a bottle top on the table while talking, he was pretty self-deprecating, as was Claire who looked gorgeous and was really funny. Look out for more from this session right here next week, but without further ado — here's part one!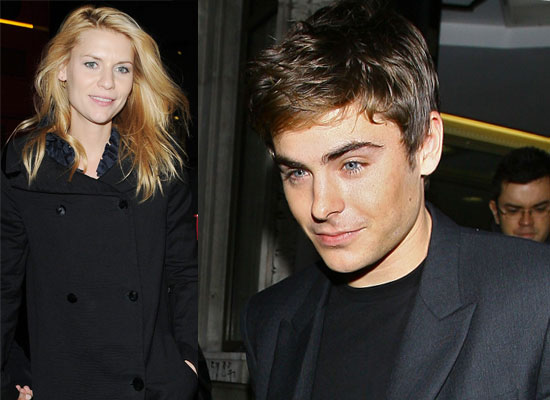 Richard, finding Orson must have been the key to the movie?
R — "Yeah, doing a movie with that title, you'd better find your Orson Welles, and that was the first step. We had the book rights, we had the script and then we went to find Orson. The film gods were smiling on us when we found Christian, I think what he did here was extraordinary. It's an ensemble, about putting on a play, about art and collaboration but I think he made his presence felt. He took up most of the room."

And once you found your Orson, it was time to find your "Me"?
R – "I was just really lucky that Zac had read the script and liked it and wanted to meet me. You know, Zac was being offered every film in town."
Z — (deadpans) "You were so lucky."
R – "It's true! It's never a given, and we sat down, and I was convinced about fifteen seconds in and I felt like I'd found Richard. Like I did when I found Christian. Even though Richard's only 17 you see it through his eyes, he needed to be a leading man, he needed to go toe to toe with Welles. I just needed that quality that Zac has, that charisma and that kinda presence."

Zac, were you trying to break out from High School Musical box?
Z — "I recognised almost immediately that this was a pretty unique opportunity. I got the phone call that Rick had a script that he'd like me to read, and he wanted to have a conversation about it. And I was… so excited, I remember running home to read the script. And I read it and was pleasantly surprised that the role was pretty big. That's not exactly what I expected. I was the "Me", that was pretty cool. I was looking for that opportunity. Not necessarily to change my image or anything. But for a new role, that was a new challenge, and something interesting – and this was it."
To hear why Zac dropped out of Footloose, find out how his efforts to find seclusion on the Isle of Man went, and Claire's opinions on having to flirt with him, just read more.
Claire, your character hovers on the outside of things, organising things…
C – "Yes, organising things… or creating chaos in the life of one young man. A heartbreaker… but it was never intentional. I play Orson's Girl Friday, and someone who's very ambitious and very forthright about that. She's unapologetically so."

What was it like to flirt with Zac Efron?
C – (sighs) "Tough. Going." (Zac nods) "I don't know... it was amazing. First of all the dialogue was very special. It's very rare to find writing of this quality, very witty and engaging and I had a lot of fun with the flirty slang words and goofy vernacular. And the scenes, I thought, were very tender. And you know, Zac's amazing."
Z (laughing) – "Yeah, the dialogue made me look really good."
C – "I was delighted to discover how fine an actor he is. And he can move very well. We took some dancing lessons for a brief scene in a dance hall, and that was very humbling. Zac was a much quicker study than I was, my god. A very coordinated guy."
Z – "It was the first time I actually led! It was great!"

Zac on dropping out of Footloose:
Z — "Footloose didn't happen for a number of reasons, but...you know, I think it just felt like territory that I'd already explored. I felt like I'd already been there before. As opposed to trying something brand new, which is a bit riskier and it was a whole lot scarier, but so much more interesting, I think."

The cast on filming on the Isle of Man:
R – "We had a good time on the Isle of Man, we spent about three weeks working, we were just in the theatre the whole time."
Z – "It was great. No, I didn't know where it was. I was looking forward to that seclusion. From what I'd heard it was a pretty quiet place, and there weren't a lot of people there. You know? I can't tell you how appealing that sounded."
R – "The girls did find out Zac was there and they showed up,"
Z – "Yeah… anyways… I found out there was a whole lot of people there. And we met… most of them. I mean, I felt pretty welcome."
C – "I don't think anybody has been better received there."
Z – "It was funny, we couldn't really go outside that much. We couldn't really leave the theatre… we were there a whole lot. Day and night."
C – "Plus the theatre was literally next door, adjacent to the hotel we were staying in."
Z – "There was a tunnel from the hotel to the theatre."
C – "You didn't have to go outside from your room to the set."
Z – "I didn't. Didn't go outside. It was great."
For more from the interview keep an eye on PopSugarUK next week, where you'll hear more from director and stars, including Brit newcomer Christian McKay.