PopSugarUK Exclusive Interview With The Dolly Rockers
Exclusive: Dolly Rockers Tell Us About Their Wonky Pop!
Dolly Rockers are bursting on the UK music scene with their first commercially-released single "Gold Digger", so we caught up with the trio to find out a bit more about the latest British girlband. Since appearing on The X Factor in 2006, Brooke, Lucie and Sophie have received big love from Scott Mills on Radio One thanks to their upbeat track and fun video for "Je Suis Une Dolly". They've shared their fashion advice and beauty tips with my girls FabUK and BellaUK, and have told me all about their musical inspirations, and their plans for the future.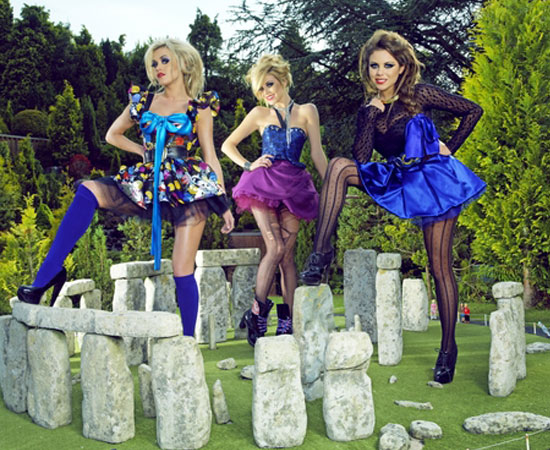 How would you describe your music?
We've always described our music as wonky cocky pop, they're pop melodies with cheeky lyrics.
Who are your musical influences, idols and inspirations?
When we first started recording two years ago we were listening to a lot of Kate Nash, Jamie T, and Arctic Monkeys, and we think that is where singing in our accents came from. The Ting Tings and Lily Allen also inspired us a lot.
Who are your favourite current UK pop bands?
There aren't that many pop bands at the moment, we love people like La Roux, and the Sugababes' new song is really good.
Describe each other in three words
Lucie — Boymad, organised, fashionista
Brooke — Loud, perfectionist, shopaholic
Sophie — Cheeky, small, sarcastic
To find out what the girls have planned for the future, just read more.


What's been the highlight of your career so far?
Probably either going into the breakfast show with Scot Mills or filming our video.
Do you still watch The X Factor?
I did a bit last year I loved JLS so I'm glad to see they're doing well.
What does the rest of 2009 have in store for you?
The second single is out in October and we'll just be working towards the album. We've always said our aim is to bring back TOTP and host it!
In an ideal world, where do you want to be in a year's time?
Welll... We would love to go international, that's one of the reasons why we've always put such a British stamp on everything we do and make us different to all the American girl groups.
Tell us a secret...
We're all married!
You can find out more about Dolly Rockers at their MySpace page and official site. "Gold Digger" is due out on 30 August: will you be picking up a copy?