PopSugarUK Exclusive Interview with Skins Actor Ollie Barbieri aka JJ, Talking About Costars, Fans and Robert Pattinson's Fame
PopSugarUK Exclusive: Ollie Barbieri Talks Skins, Romantic Storylines and Success RPattz-Style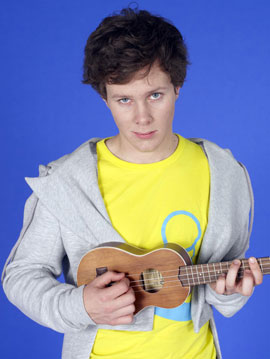 This week I was lucky enough to have the chance to interview Ollie Barbieri — who plays JJ in Skins — ahead of tonight's episode, where JJ takes centre stage! In part one of my interview, Ollie gives us some thoughtful answers about his character, how the show represents real life teenagers, the fame levels of Robert Pattinson and much more!


Are you pleased with the journey that has been written for JJ? "Very much so, I think that JJ's story is one of the most complete changes in character and a great example of some of the aspects of what happens to someone as they grow up and become more mature. By the end of the fourth series JJ is a much more well rounded person. In series 3, his story was about learning what it means to be "normal", whereas this time around, its much more about accepting and embracing the things in life which set you apart from others."
In tonight's show JJ has a romantic storyline. How do you impress the ladies? "Personally? I don't really, It sounds really clichéd but the only thing that anyone is going to respect and admire is the ability to simply be natural and not have to put on a persona to impress people."
Do you think the show is a good representation of teens? "I have always said that Skins must be seen first and foremost as a TV drama. Whilst the events in it can and do happen, a certain amount of exaggeration has to go on in order to make the stories fun to watch. It shows certain aspects of true teenage life, but packages them in a humorous and often larger than life way."
To read the rest of my interview with Ollie, where he describes his other castmates in three words, ponders the fame of Robert Pattinson and discusses being recognised, just read more.


Have there been any storylines that you've found difficult? "None that really spring to mind. If any of us had a problem with one of the stories, there was always someone you could get hold of to help explain why the stories were the way they were."
What's the best thing about being recognised? And the worst? "The best thing is that it often lets you know that people appreciate the job you've done. The vast majority of people are really positive about the show and that's a big compliment. I would have to say the worst thing is when people follow you and don't say anything, it can be quite an uneasy feeling having people watching you while you're out and about. Its like being spied on by some very conspicuous spies."
Do you think you could cope with the level of fame of someone like Robert Pattinson? "I'd like to think I would, but you never really know unless you get first hand experience of it. I have a feeling good old Pattz gets pretty irked by it at times."
Describe the other cast members in three words: "Good question."
Kaya: Youngest on set
Jack: Quick, witty and northern
Megan: Speaks her mind
Kathryn: "like..... like, like"
Lily: "SHE"S FROM HACKNEY!!!"
Lisa: Heart of gold
Luke: Annoyingly good looking.
Merveille: Perceptive, philosophical and confident.
Yourself: Loving the ride
Let me know what you think of Ollie's answers, watch him in Skins at 9pm on E4 tonight, and stay tuned for part two of my interview with the lovely chap very soon! If you've missed this episode or any of Series 1 to 4 the box set is out on March 22!