PopSugarUK Exclusive Interview with Skins Actor Ollie Barbieri aka JJ, Talking About Friendships On Set, Music and the Future
PopSugarUK Exclusive: Ollie Barbieri Talks Skins, Cast Friendships, AS Levels and the Future
Last week I chatted to Skins star Ollie Barbieri about his experiences on set and series four. In part one he talked about his character and described his fellow castmates. In the second and final part, he talks about friendships on set — particularly the ones with Jack O'Connell and Luke Pasqualino — music he's currently listening to and his hopes for the future!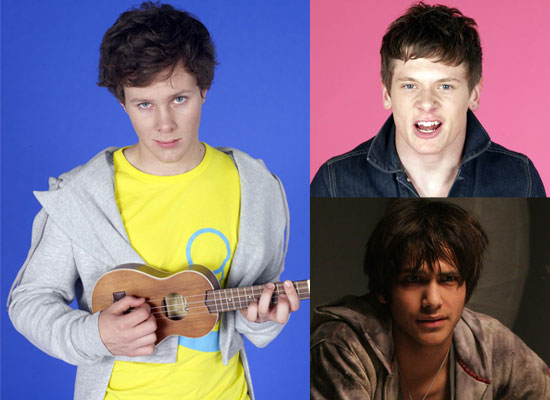 The cast seem to get on really well. Does that help or hinder when you have to work on intense scenes? Is anyone known for breaking into giggles? "Kaya and Lisa would very often break down into uncontrollable fits of laughter over something completely trivial and unfunny to the rest of us. Laughter was severely infectious on set."
The friendship between JJ, Cook and Freddie is one of the best depictions of young male friendship on TV — how do you, Jack and Luke make sure that it comes across so well on screen? "I think it helps that we get on so well off screen too. We just sort of translate our real friendship into the friendship between our characters, which is why it shows through so well. If we hated each other, you'd definitely be able to tell."
Do you all socialise outside of filming the show? "Yes, when we get the opportunity. It's quite difficult, because everyone is always so busy, but for some reason, whenever I'm in London, I always run into Kaya."
To read what Ollie had to say about music, exams and the future so just read more.
What did you do during your time off between the two series? "Went back to school. Struggled with my AS levels and missed filming Skins."
Which of the cast is most like their character? And the least? "That's a difficult question, all of us share certain qualities with our characters, else we probably wouldn't have got the jobs. I don't think I could fool anyone by saying I was the complete antithesis of JJ, I'm a bit of a geek too. Though I will also say this, Lisa has her Pandora moments."
Skins has a fantastic soundtrack. Who are the artists you're listening to the most right now? "At the moment I'm listening to loads of different stuff. Asobi Seksu (their music is all over Skins), The Who, The Real Tuesday Weld, Stenchman, Doctor P, Emalkay, Danny Byrd, Foreign Beggars and anything else that comes on shuffle."
The first cast have gone on to do some really exciting projects, is there any role you would love to take on? "I'm up for anything. I'd really like to play a character who is very different to JJ, I'd really like that challenge. Of course I'd love to pull a Dev and land a role in a massive, award winning film, but hey, time will tell."
What's coming up for you in the future? "Exams. Exams and with any luck, some more acting."