PopSugarUK Exclusive Photos, Plus Video Of Peter Andre Performing And Falling Off The Stage At T4 On The Beach 2009
Peter Andre Stumbles But Succeeds At T4 On The Beach
Yesterday FabSugar UK and I headed down to Weston-Super-Mare to check out all the acts performing at this year's T4 On The Beach! Peter Andre showed up to perform his new song "Behind Closed Doors" — although his time onstage was unfortunately beset by difficulties when he fell off the stage, and then his earpiece fell out so he ended up singing a little out of time with the track. Despite all that when we met him backstage he was a lovely guy, taking the time to talk to as many people as possible and chat about his new music. Although he wasn't talking about Katie Price or his divorce, we chatted about the new single, and he said: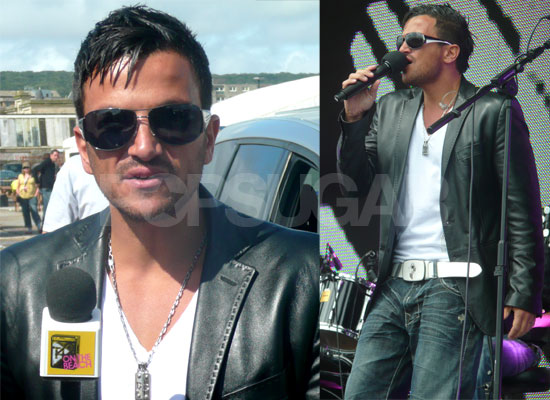 This is the first serious one I've done, and the reason I say that is because lyrically it's the first time I've done something meaningful, as opposed to just... I've always written [my songs], but I've based them on melodies, I never based them on lyrics. This time it's on lyrics for the first time... the new album is very personal.
What a lovely guy. Stay tuned for more photos and stories from T4 On The Beach today!
To see lots more exclusive PopSugarUK photos of Pete onstage and backstage at yesterday's event, as well as video of his performance, just read more.
Photos copyright of PopSugar UK