PopUK Gift Guide: Brilliant Baby Boys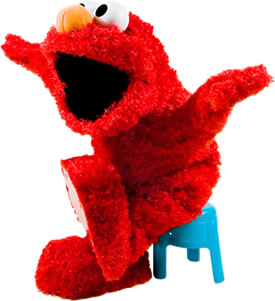 All our Sugar sites are bringing you gift ideas for newborn and toddler boys, so I've selected a few entertainment purchases that will be perfect for the little boys in your life!
First off we've got the most amazing "Elmo Live!" toy! Now, I'm a sucker for Elmo — I think he's adorable — and this electronic (yet soft) toy blows kisses, talks, stands up and sits down, and I adore him. I can only imagine what children must think! He's suitable for children aged 18 months and up but, boy or girl, I think that Elmo would be a welcome addition to any children's bedroom!
Additions to the childrens' library are always something that's very welcome at Christmas, and I recommend Mr Men book "Mr Christmas", "Manfred The Baddie" and "Father Christmas Goes On Holiday" all available to spark the little boy in your life's imagination!
I also have some fun DVD recommendations to keep him occupied occasionally — Disney classic The Jungle Book is so delightful, funny and singalong-filled, the more recent action-packed kids' series Ben 10 is sure to keep him occupied, and my favourite of the selection —The Trap Door — is so cute and so much fun.
For a little music to get your baby boy / toddler giggling, why not pick up the The Wiggles Christmas CD, which holds some high energy end of year classics to add a party atmosphere to your little boy's festive season! And finally, the film that captured my imagination — and those of millions of children — this year was Wall-E, so why not let your little one snuggle with their own soft robot with a heart? Adorable.
Remind yourself of my gift ideas for period drama loving mamas and funny guy fathers, good grandads and bookworm grandmas, marvellous mums to be and beautiful baby girls and then visit HolidaySugar for our holiday coverage.