PopUK Gift Guide: Little Sister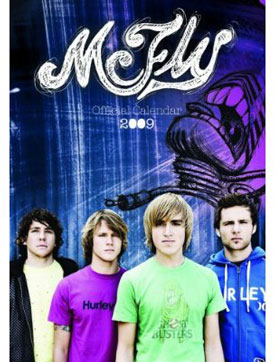 All our Sugar sites are bringing you gift ideas for those little sisters and young ladies in your life, so I've selected a few entertainment purchases that will be perfect for the sisters, cousins and mini-women in your life!
First off I have some musically inspired gifts — I think those cuties from McFly would be perfect to brighten up her bedroom on a wall calendar as a fab stocking filler. Almost every tween in the country adores Disney stars Miley Cyrus and the Jonas Brothers, so — after checking they don't already own them — why not pick their latest albums up? If they already have those albums, why not try Nickelodeon star Drake Bell's music — it's pretty similar to that of McFly, and perhaps something that the rest of the family won't mind too much as well!
Next up is a little reading material — if she's still quite young I recommend Enid Blyton's The Magic Faraway Tree, but if she's a little older how about a fun, attitude-filled graphic novel like The Plain Janes, or the novel that upcoming movie Nick & Norah's Infinite Playlist is based on. Alternatively, for a gift that will arrive throughout the year, your teenager might like a subscription to Bliss magazine!
For some visual entertainment why not go for the next installment of the Narnia movies Prince Caspian starring the rather good-looking Ben Barnes, or perhaps a British girlie comedy in Angus, Thongs and Perfect Snogging. Finally, you can't go wrong with the singalong High School Musical, and while the excitement wears off from the cinema release of the third (which I loved, I really am a child at heart!) the first two movies are out in a set to buy this Christmas.
Remind yourself of my gift ideas for period drama loving mamas and funny guy fathers, good grandads and bookworm grandmas, marvellous mums to be and beautiful baby girls and then visit HolidaySugar for our holiday coverage.