Preview and Extracts From Beyonce's Exclusive Interview With Marie Claire UK
Beyonce Talks Barack, Behaviour and Being Iconic
In October's issue of Marie Claire Beyonce Knowles opens up about her life, alongside some photos where she looks pretty amazing, as usual! She spoke to them about how she feels when her stage persona takes over, the inspiration behind her songs and her opinion on Barack Obama. Here's a few extracts: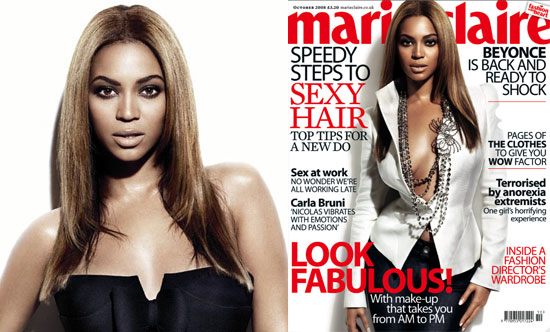 On why she uses her alter ego 'Sasha':
"Things I do when I am performing I would never do normally... I always wish I could feel the way I do on stage when I'm doing a movie because I have out of body experiences... I'm so fearless."
On who her song "Irreplaceable" is about:
"The obvious person is not the person at all."
On being a pop star:
"There is a time limit on being a pop star yes, being a legend, an icon, absolutely not... I'm over being a popstar, I don't wanna be a hot girl I wanna be iconic. There are responsibilities that come along with this life…trying to have a romantic meal without someone sneaking in to film the whole thing. I have to work really hard and it's fine because I like it, I love it, but it's a lot of sacrifice."
To read what Beyonce has to say about her status as a role model, and her feelings about Barack Obama just read more.
On being a role model:
"I think I'm opening doors for more black women, just like Halle Berry and Diana Ross opened doors for me."
On Barack Obama:
"I'm really proud, I think we're making a bit of progress, it's an exciting time. We all feel part of our country now."
To read the full interview be sure to pick up October's issue of Marie Claire magazine, out now!