Prince George's Godparents
Lucky 7: Meet Prince George's Godparents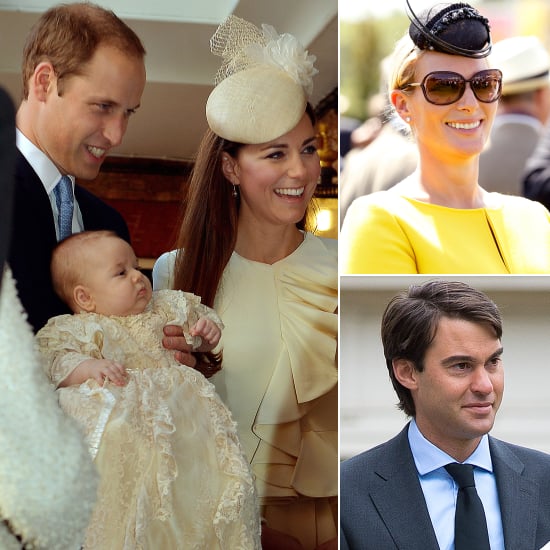 Amid all the buzz over Prince George's christening, there was plenty of excitement over his godparents, whose names were shared just hours before the ceremony. Veering from the monarchy's tradition, the Duke and Duchess of Cambridge picked close friends and family as their son's godparents rather than a group of royals and foreign dignitaries. Prince William's godparents, for instance, include King Constantine of Greece; King George V's daughter, Princess Alexandra; and the Duchess of Westminster. So who exactly are these special people whom Prince William and Kate Middleton have chosen? Meet Prince George's seven godparents, including a family member and several friends.
Zara

Tindall

Zara Tindall (Phillips) is Prince George's only royal godparent. As the daughter of Anne, Princess Royal — Prince Charles's sister — Zara is Prince William's cousin, older by just a year. She's an Olympic equestrian, once named BBC sports personality of the year. Zara and William have been close since they were young, and she's expecting a baby of her own with her husband, rugby player Mike Tindall.
Jamie Lowther-Pinkerton

Now the part-time private secretary for Prince William and Kate, Jamie served full-time as the private secretary to both the couple and Prince Harry from 2005 to 2012, having helped plan everything from overseas tours to the royal wedding. The former SAS major is very close to the couple, and his son, William, was named a page for the royal wedding.
Julia Samuel

Julia Samuel was a good friend of Princess Diana's, having named the late princess a godmother to her own son. She's a founder patron and trustee for a charity called Child Bereavement UK, and Prince William is also a patron. Her ties to Prince George also link back to St. Mary's Hospital, where the little prince was born, and she works as a maternity and pediatric counselor.
Keep reading to meet the rest of Prince George's godparents.
Earl Grosvenor

Called Hugh by his close friends, Earl Grosvenor is the youngest of the godparents at age 22. He's the son and heir of the Duke of Westminster, and he attended Newcastle University. His mother, the Duchess of Westminster, is Prince William's godmother.
Oliver Baker

Oliver is a friend of Prince William and Kate's from college, one of two friends they shared a house with during their last two years of college. He's married to another St. Andrews University alum, Melissa, and the Duke and Duchess attended their wedding.
Emilia Jardine-Paterson

Emilia Jardine-Paterson (born d'Erlanger) went to Marlborough College with Kate, and she also attended St. Andrews, where she became a good friend of Prince William, too. She currently runs her own design business, d'Erlanger and Sloan, and she regularly shares home decor finds on her Pinterest account.
William van Cutsem

The van Cutsem family has been close to the British royals for years, and William is the youngest of the four van Cutsem brothers. His father, the late Hugh van Cutsem, was one of Prince Charles's good friends from Cambridge University. He and Prince William grew up spending time together at Anmer Hall on the Queen's Sandringham estate near Norfolk, England, which is now the Duke and Duchess of Cambridge's country home. His niece, Grace, was a bridesmaid in the royal wedding.