Prince Harry Gives Feminist Speech in Nepal
Prince Harry's Powerful Speech About Women's Rights Is Exactly What You Need to Hear Today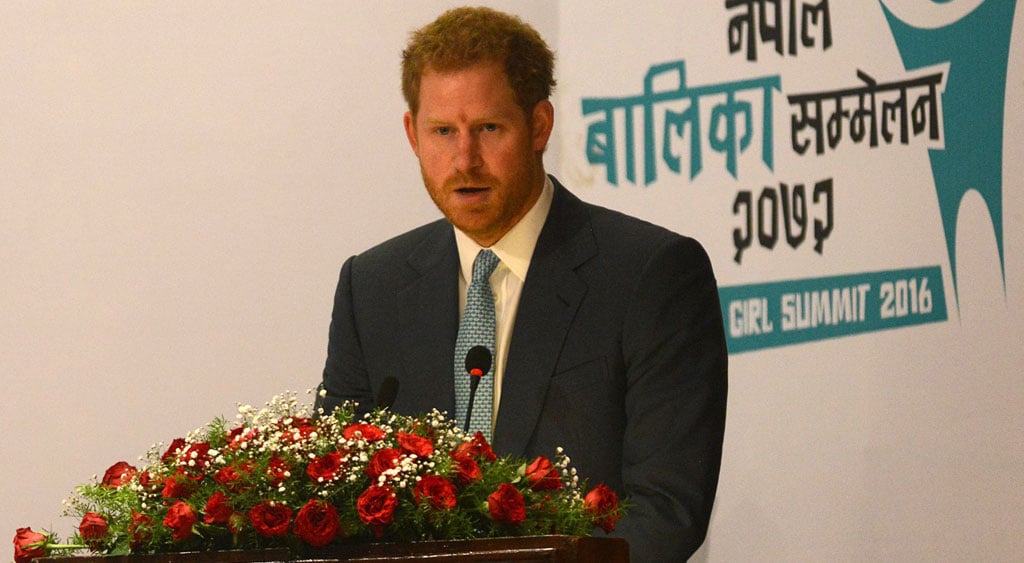 Prince Harry's colourful, flower-filled tour through Nepal became even more meaningful when he delivered a powerful speech about women's rights as part of the Nepal Girl Summit in Kathmandu on Wednesday. After thanking Nepal's President Bhandari for her support and citing the importance of his Sentebale charity's work in helping thousands of children receive education and healthcare in Southern Africa, Harry spoke at length about his feelings on the struggles women face daily.
"While the unique challenges faced by girls is not a topic I have spoken much about in the past, I think it's important to acknowledge something that has become obvious to me and is already known to everyone in this room: There are way too many obstacles between girls and the opportunities they deserve. Whether it's a girl in Lesotho living with HIV; or the talented young woman in Britain who doesn't get taken seriously because of where she grew up; or the 14 year old girl forced out of school so she can get married here in Nepal; we need to acknowledge that so many countries and cultures are failing to protect the opportunities of young women and girls in the way they do for boys."
Harry passionately continued on about how "vitally important" it is for men to also acknowledge the issue in the way Michelle Obama and Malala Yousafzai do. "As the first lady has said, change needs to come from the bottom up," he added. "We won't unlock these opportunities for young women and girls unless we can change the mindset of every family and community. To achieve this, it cannot just be women who speak up for girls." The prince, who has fully embraced his philanthropic duties, concluded his speech by touching on how education will help break the cycle of "illiteracy, poverty, ill health, and, ultimately, powerlessness" that comes from child marriage (which used to be commonplace in Nepal), saying, "I am proud to stand with you today."