Prince William Quits the Royal Air Force
What's Next For Prince William?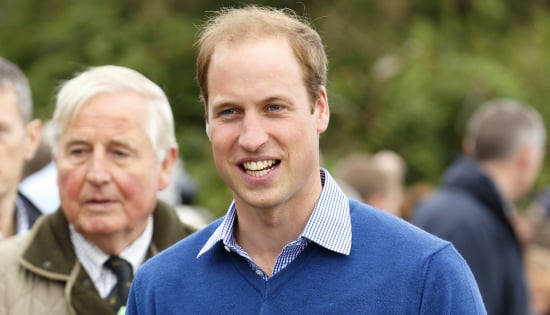 Clarence House officially confirmed today that Prince William will be leaving his job as an RAF search-and-rescue pilot, raising questions about what is next for the new dad. Does this mean that William is going to go into full-on royal mode? Well, not really.
The Palace has said that the Duke of Cambridge will expand his work in the field of conservation and has been named the president of a new collaboration, named United for Wildlife, which is described in a statement by the Palace as a "long-term commitment to tackle the global challenges to the world's natural resources so they can be safeguarded for future generations." The new project will bring together seven conservation charities, including the World Wildlife Foundation UK and Conservation International, as well as the Royal Foundation of the Duke and Duchess of Cambridge and Prince Harry. William will immediately get to work on his new conservation project as he'll be presenting two awards for outstanding achievement in the field of African Conservation at the inaugural Tusk Conservation Awards in London tonight. Kate Middleton is also expected to attend the gala this evening. According to Palace statements about William's new job, he will be focusing on working with Kate, Harry, and their joint charity projects, as well as continue to make appearances and "support the work of The Queen and the Royal Family, both at home and overseas."
While the new charity project is a big step for William, it doesn't mean that he has decided to become what officials call a "full-time royal," like Prince Charles or Queen Elizabeth II. In fact, a BBC reporter said that royal officials insist that this is a "transitional" phase for the Cambridges and may last for up to 12 months. While William and Kate are already in the public eye, they enjoyed the privacy of military life in Wales for several years and will now be focused on moving into their newly renovated apartments in Kensington Palace over the next few weeks.
William has worked for the military full time since January 2006 and began his work as a search-and-rescue pilot in January 2009. Over the course of his time in the military, he has rescued 149 people and completed over 1,300 flying hours. See William in uniform back in 2012 below.
Yesterday, William joined up with his brother Harry to raise money for their charities during the annual charity day for BGC Partners. He is slowly getting back into his (still part-time) royal duties after the birth of Prince George in July. William and Kate will reportedly have some extra help in Kensington Palace as William's former nanny, Jessie Webb, has allegedly come out or retirement to help with raising George while William and Kate start gearing up for their next phase in life.