Prince William Wearing Scrubs in the Hospital
Dr. Prince William Reporting For Surgery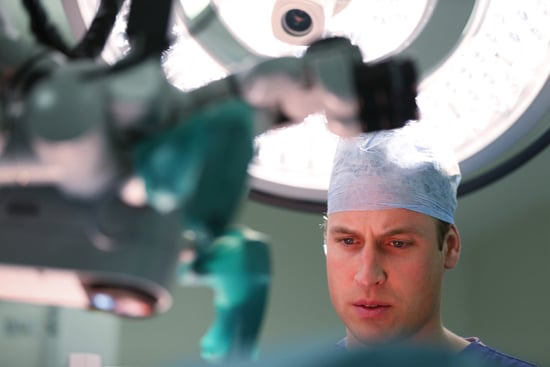 Prince William's having quite the interesting day! This afternoon, William headed to Sutton in the Greater London area to scrub into surgery at the Royal Marsden Hospital. The trip came as part of William's duty as the president of the Royal Marsden National Health Service Foundation Trust. During his visit, he observed a bladder and breast reconstruction surgery close-hand, and he even got to wear scrubs and check out the medical equipment.
Prior to this afternoon's foray into medicine, William spent his morning riding the bus with Kate through London on the way to speak with the Royal British Legion, one of the charities that sells red poppies to raise funds for members of the British Armed Forces and their families. The red poppies are popular ahead of Remembrance Day (the British version of Veterans Day), and many celebrities can be seen wearing the red pins ahead of Nov. 11.
Check out the other pictures from Prince William's hospital stay when you read on.