Queen Elizabeth II Jokes About Donald Trump Video
Queen Elizabeth Cracked a Sly Joke About Trump in the Most Queen Elizabeth Way Possible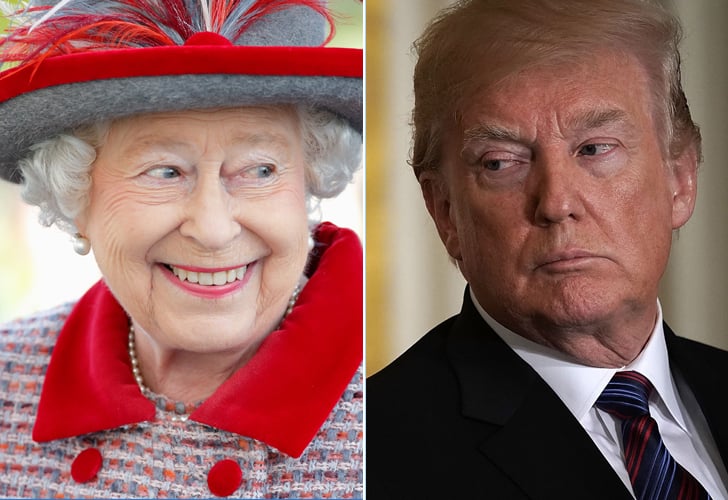 Image Source: Getty / Max Mumby / Alex Wong
In case you missed it, Queen Elizabeth II is subtly hysterical. The British monarch may be 91 years old, but her deadpan sense of humour is still fully intact, as she's cracked jokes about everything from her age to her penchant for brightly coloured clothing. The Queen has somehow resisted poking fun at Donald Trump during his presidency, as most of the internet tends to do, but that all changed when she chatted with Sir David Attenborough for the forthcoming ITV News documentary The Queen's Green Planet.
In a clip of Sir David's interview with the Queen, the two are waltzing through the private gardens at Buckingham Palace while chatting about her conservation efforts when they hear a noisy helicopter hovering overhead. "Why do they always go round and round when you want to talk? Sounds like President Trump or President Obama." Ha!
Was Queen Elizabeth simply referencing Trump's frequent flights in the presidential helicopter Marine One, or was her mention of the POTUS deeper than that? Perhaps she was alluding to his intrusive, annoying nature and tendency to always loom over things like a disruptive helicopter. Or maybe she was indirectly throwing shade at him for not making an official visit to the UK to meet the her in person (i.e., going "round and round" when she just "[wants] to talk" to him). Either way, we're bowing down to the Queen for slipping in a quick jab at the president.
Watch the royal jokester in action below, and check back on our coverage of The Queen's Green Planet after the documentary airs on April 19. Cue Trump's angry Twitter response to the Queen's joke in 3, 2, 1 . . .
"It sounds like President Trump!" Queen shows her funny side in documentary interview with Sir David Attenborough https://t.co/auMwXzH0ma pic.twitter.com/GHGuDv1nnO

— ITV News (@itvnews) April 10, 2018