Read New Moon Film Review, Pictures From New Moon Stills of Robert Pattinson Edward Kristen Stewart Bella Taylor Lautner Jacob
New Moon: Love Triangle and New Additions Live Up to Hype
The wait is almost over, as New Moon hits our cinemas on Friday! The huge anticipation for the second installment of the Twilight saga puts a great amount of pressure on it, but I'm pleased to report it lives up to the hype. The story starts with Bella Swan's (Kristen Stewart) 18th birthday, and the rivalry between Edward Cullen (Robert Pattinson) and Jacob Black (Taylor Lautner) is set up from the outset. The three leads all bring intensity and passion to their roles once again, and there are several stand-out performances from the supporting cast.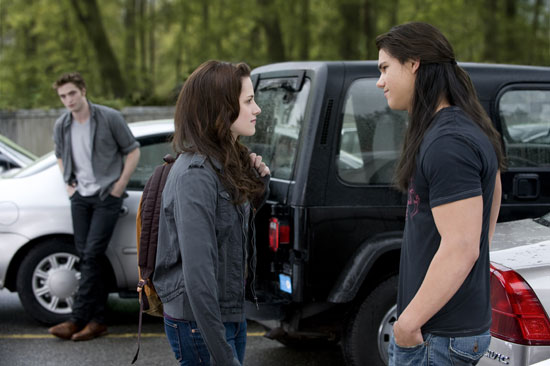 To find out more about the movie, and see tons of stills from the film, just read more.
An incident at Bella's party leads Edward and the Cullens to leave Forks and a heartbroken and hunted Bella behind. Jacob and Bella's friendship deepens as she becomes an adrenaline junkie and Jacob undergoes his own major changes. The ancient battle between vampires and werewolves is reignited, and we learn more about the hierarchy as the action moves to the Volturi in Italy. The film benefits from the change in location, and the additional characters raise the excitement levels and keep the saga moving forward.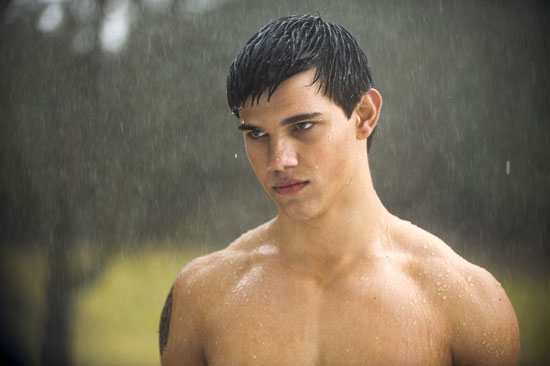 The addition of the Wolf Pack and the Volturi bring depth and context to the battles between individuals. Jacob and his boys spend most of the second half of the movie shirtless, but it's not all bare torsos, as the back story of Sam (Chaske Spencer) adds another dimension to the dangers Bella faces. Dakota Fanning shines in her small part as subtly sinister Volturi guard Jane, and Michael Sheen is impressive as Aro. Michael Welch also deserves special mention for bringing some much need humour to the film as Mike, another of Bella's suitors who frankly doesn't stand a chance when faced with Edward and Jacob as competition.
New Moon definitely puts Jacob in the spotlight, and the lack of Cullens airtime will disappoint Team Edward fans. I found the first half of Twilight dragged a bit and the sequel follows the same formula of a slower beginning, but it has more action than the original and the running time of 130 minutes doesn't feel quite as long as the first film (although it could do with being tightened up). The deeper storyline of the love triangle and the new characters ensures the second film in the saga goes further than the first, and fans will find plenty to adore.
Get yourself in the mood for New Moon by checking out the first, second and third trailers, and by reading my interviews with the cast. Are you planning on seeing it on Friday?
Pictures TM & ©2009 Summit Entertainment, LLC. All Rights Reserved