Read Our London Marathon Exclusive Interview With Dick and Dom
Exclusive: Dick and Dom Reveal Their Marathon Secrets!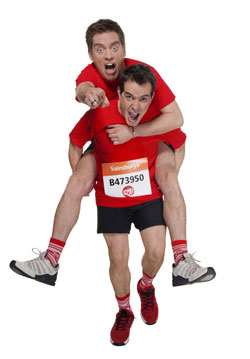 Lots of celebrities have been training hard in preparation for Sunday's London Marathon. We were lucky enough to catch up with TV presenters Rich McCourt and Dominic Wood, aka Dick and Dom, who spilled the beans on the secrets of their preparation. From their music and movie inspirations to the celebs they'd most like to beat to the finish line, they revealed all!
On their training playlist:
Dom: "The entire collection of Rocky films' theme tunes... POWER TRAINING."
Dick: "Anything up beat but the Rocky soundtrack is always a winner!"
On their sporting inspirations:
Dom: "Ian Rush who was a footy player for Liverpool in the 80s... looked like a Chuckle Brother, played like a demon!"
On their sports movie inspirations:
Dick: "The bob sleigh team in the film Cool Runnings, just shows you can do anything if you really want."
To find out which celebs they'd most like to run with, who they'd most like to beat, and what they're looking forward to after the marathon, just read more.
On which celeb running the marathon they'd most like to beat:
Dom: "Hmmmm, Jedward? Beat in every sense of the word!"
Dick: "Our friend Anna Williamson from GMTV's Toonattick, we've all been training hard!"
On which celebrity they'd most like to run alongside:
Dom: "Sienna Miller and Richard Branson = great conversation while having something nice to look at... which for which though?"
Dick: "I think Dom's a good one although failing that Kathryn Jenkins!"
On what they're most looking forward to after the marathon:
Dom: "Vomiting through exhaustion followed by eating a Snickers!"
Dick: "Finishing it, it will be a big achievement!"
On their secrets:
Dom: "I used to go to school and be mates with Chris Martin from Coldplay."
Dick: "I don't have any!"
Good luck to Dick and Dom and to everyone running the marathon on Sunday!