Read Remember Me Review Starring Robert Pattinson and Emilie De Ravin
Remember Me: Robert and Emilie Explore Life's Significance
Robert Pattinson has stepped away from the vampires for Remember Me and obviously relished the chance to play a mere mortal alongside an understated performance from Emilie De Ravin. The film follows Robert's Tyler, a college student who's struggling with a family tragedy and a difficult relationship with his father (Pierce Brosnan). When he meets Ally (Emilie De Ravin), who is also living with her grief, Tyler starts to open up, but the couple's relationship is tested by Tyler's past interactions with Ally's police officer dad (Chris Cooper).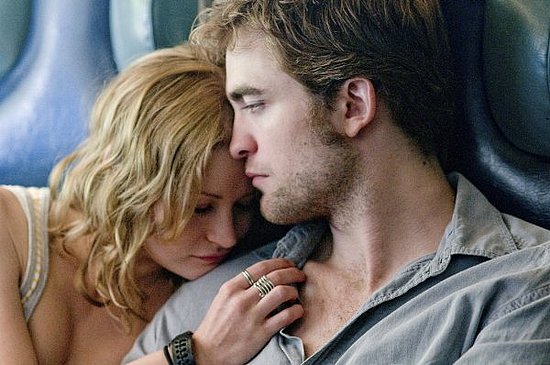 Rob and Emilie create convincing chemistry on screen, and their intense kissing and sex scenes will be welcomed by Rob fans who'll be pleased to know he gets shirtless and downright sexy on more than one occassion. Ruby Jerins as Caroline, Tyler's adored little sister, gives a stand-out performance that Rob praised whole-heartedly when I met him.
To find out more about the film, and see loads more stills, just read more.
Early on in the movie 21-year-old Tyler, who is struggling to find his way in the world, quotes Ghandi, and says: "Whatever you do in life will be insignificant, but it is very important that you do it". This is a pretty good summary of the whole film, and encapsulates both its strengths and weaknesses.
First off, the strengths: what is of utmost importance for the characters is their relationships with their family members, and the intricacies of these relationships are realistically and movingly explored. The random, confusing experience of living and trying to find a meaning to one's life is also at the forefront of the film, and the intensely moving ending gives great weight to the importance of living life to the full. The movie is full of day-to-day experiences, with the occasional heightened moment of drama, which paints a relatable and realistic picture of modern life. It's this naturalistic element that Rob was drawn to when he read the script.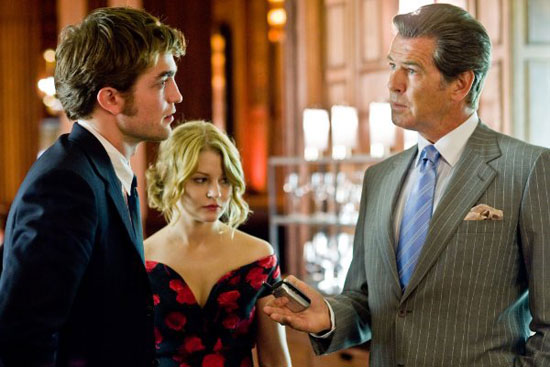 The lack of a driving force in the plot is the main weakness for me. While the intricacies of everyday life and troubled family relationships are really well handled and compelling, the film would have benefited from the addition of some kind of urgency or story arc to keep the viewer riveted throughout the whole two hours. Tyler and Ally's relationship gives shape to the unfolding of events, as does Tyler and Caroline's developing relationship with their father Charles. Robert was particularly interested in this father-son relationship and I would have liked to see even more of their interactions.
Saying all that, however, the point of the film is its naturalistic realism and that we need to appreciate the significance of a life whilst it is being lived, and not only after death. It certainly delivers its message, and I'd recommend it just for that, let alone its tempting leading man.
Remember Me is released in the UK on 2 April, so help get ready by watching the trailer and an exclusive clip, and by reading my interviews with Rob and Emilie. Do you plan to see it?