Read Review of Mamma Mia DVD and Watch Deleted Scene and Behind the Scenes Feature From Mamma Mia
Pop A DVD In: Mamma Mia!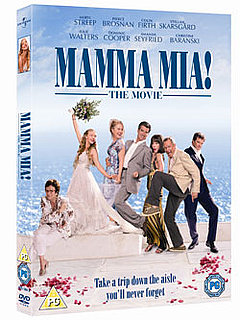 It's starting to get really cold now, so thank goodness for the DVD release of Mamma Mia! this week. One of the massive box office hits of the summer, the film based on the stage musical will bring some welcome sunshine and laughter into your living room.
Meryl Streep is on wonderful all-singing all-dancing form as Donna, a single mum with a run-down hotel on an idyllic Greek island. Amanda Seyfried shows off her awesome singing voice as Donna's daughter, Sophie, who wants her father to be at her wedding to Sky (played by a gorgeous, and topless, Dominic Cooper). The hitch is Sophie doesn't know who her dad is, so she invites all three (Colin Firth, Pierce Brosnan and Stellan Skarsgård).
Throw in lots of ABBA songs and you've got yourself a fun, silly, charming film. The all-star cast are one of the biggest draws (alongside the gorgeous Sporades setting), with Julie Walters and Christine Baranski on brilliant form as Donna's best friends. The film pretty much manages to pull off a bizarre blend of knowing irony and heartfelt sincerity, but it is a strange mix that won't appeal to everyone.
I got to meet the male and female stars of the film, and it was clear how much they enjoyed making the movie when they told me all about the singing and dancing. Check out my review of the cinema release to find out more and see movie stills.
To read more about the film's record breaking, and watch a deleted scene plus a behind the scenes featurette, just read more.
Mamma Mia! is breaking records left, right and centre: having become the biggest grossing British film of all time at the UK box office, it has now become the UK's fastest-selling DVD, with 1.669 million copies sold on the first day of sale on Monday. I'd recommend you join the millions of viewers who've already enjoyed the ride, and grab a slice of summery silliness to brighten up these cold winter days.
DVD extras are ample (bumping up my original star rating!) and include: director's commentary, Making Of, outtakes, sing-a-long option, behind-the-scenes features, music video and deleted scenes. See below for a couple of goodies.
A Look Inside
DVD Extra Deleted Musical Scene