Reading Group Book Club on Choke by Chuck Palahniuk 2008-10-01 05:00:00
PopUK Book Club: Choke by Chuck Palahniuk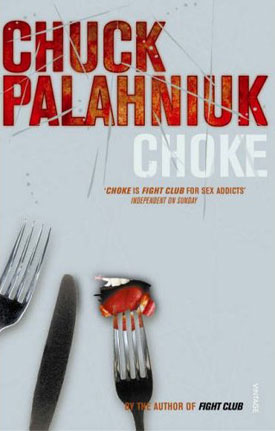 Welcome back, members of the PopUK Book Club. On Monday we finished discussing our first title, Evelyn Waugh's Brideshead Revisited, and now it's time to announce our second title.
I've chosen Choke by Chuck Palahniuk for October's Book Club. It's a timely decision, as the film version (starring Sam Rockwell and Anjelica Huston) will receive its UK premiere tonight at the Raindance Film Festival, before it hits UK cinemas nationwide in November.
Here's a reminder of how the PopUK Book Club works: each week I'll suggest chapters to complete by the next post (each Monday). In these weekly posts, I'll suggest a few discussion-provoking questions for us all to think over and respond to in the comments section.
By the end of the month we will have completed this hilarious novel from the author of Fight Club together, and we'll be equipped to watch the film to see how it compares.
To see what Choke is all about, and to get your first assignment, read more.
The synopsis for Choke reads:
"Victor Mancini has devised a complicated scam to pay for his mother's hospital care: pretend to be choking on a piece of food in a restaurant and the person who 'saves you' will feel responsible for you for the rest of their lives. Multiply that a couple of hundred times and you generate a healthy flow of cheques, week in, week out. Victor also works at a theme park with a motley group of losers, cruises sex addiction groups for action, and visits his mother, whose Alzheimer's disease now hides what may be the startling truth about his parentage."
Your first assignment is to read to the end of Chapter 16. Feel free to read ahead, but no spoilers please! As we'll need some time to buy the book, we'll take a few extra days to get to grips with it, and chat about the first section on Monday 13 October.
We'll discuss Chapters 17-32 on Monday 20 October, and Chapters 33-49 on Monday 27 October, so we'll have finished the book before the film's release in November.
Happy reading!