Reading Group Book Club on Choke by Chuck Palahniuk 2008-10-13 05:00:00
PopUK Book Club: Choke, Section One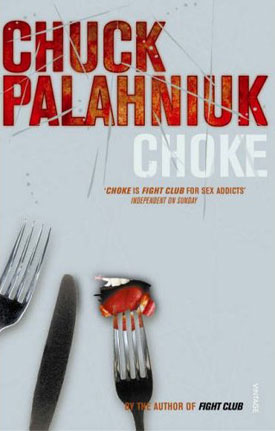 Welcome back, members of the PopUK Book Club. At the beginning of the month I announced the title of our October Book Club: Chuck Palahniuk's Choke.
We've had some time to get a copy and read to the end of Chapter 16, so now it's time to discuss! You are of course welcome to read ahead, but please don't reveal any spoilers in the comments.
Here's a reminder of how the PopUK Book Club works: each week I'll suggest chapters to complete by the next post (each Monday). In these weekly posts, I'll suggest a few discussion-provoking questions for us all to think over and respond to in the comments section.
We'll discuss the second section next Monday, and the final part the following week, ahead of the film release in Nov.
After the jump you'll find some questions and topics to get the discussion started, but feel free to write about whatever you found interesting.
The next assignment: Read to the end of Chapter 32 by Mon. 20 Oct.
Ready to discuss the first section of Choke? Just read more.
What do you think about the device of Victor writing about himself as a child in the third-person? And his use of "you" in addressing the reader? Do you feel alienated, engaged, uncomfortable?
Choke is a very physical book: what do you make of the graphic descriptions (of sex, bodily functions, his mother's illness)?
A lot of Victor's time is spent pretending to be someone else: in Colonial Dunsboro and at his mother's hospital. What are your thoughts about this aspect of the novel?
In Chapter 7, Victor explains some of the motives behind his choking routine: to put adventure in people's lives, create heroes, put people to the test, make money, and be adored. Do you find any of these reasons more convincing than the others? Do you think he is right or wrong in doing this?