Real Story of The Last Tango in Paris Rape Scene
The Disgusting Story Behind One of Cinema's Most Infamous Rape Scenes Has Caused an Uproar in Hollywood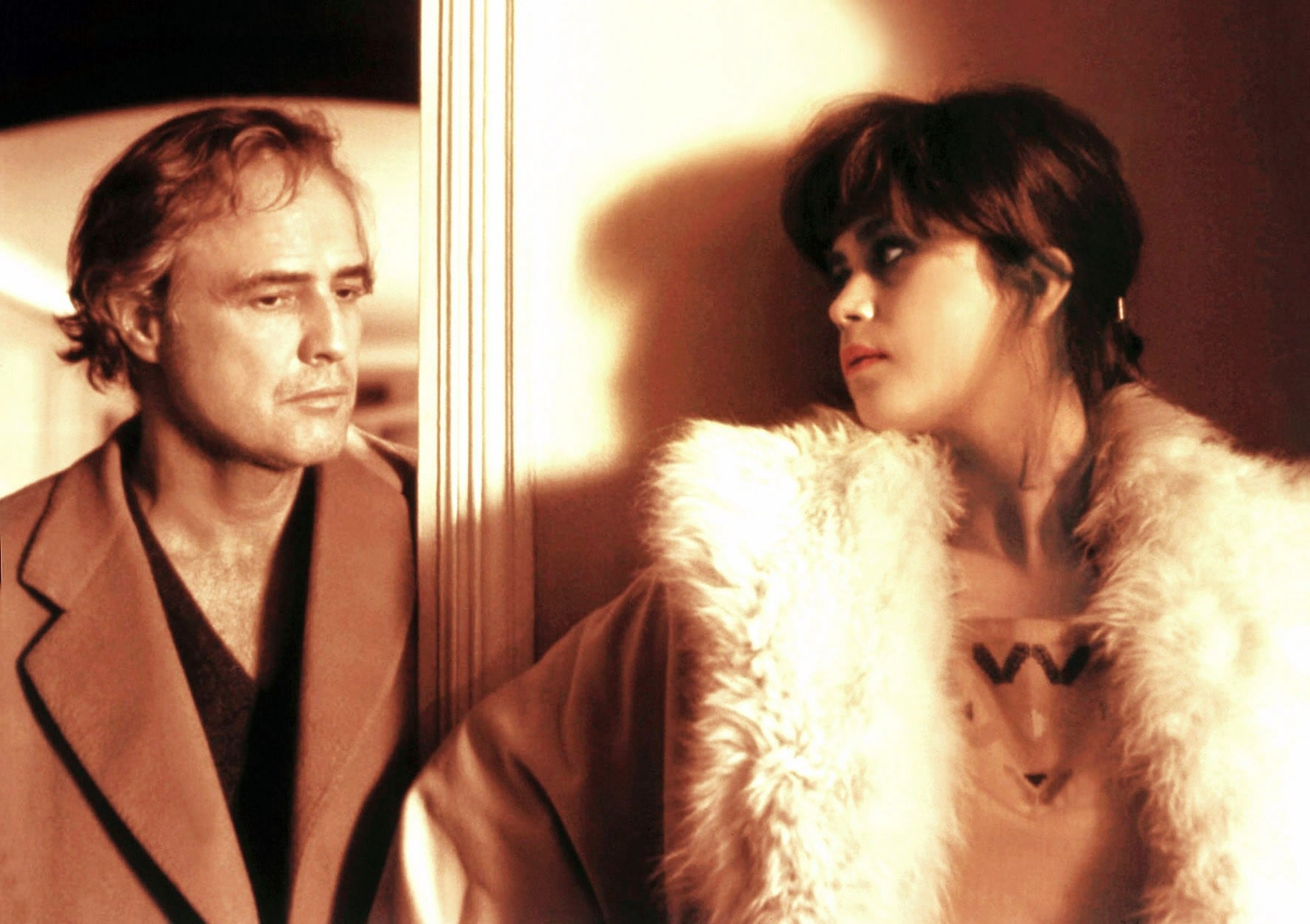 This article has been updated with new information, and contains a disturbing story of rape and assault.
On Friday, a 2013 video of Italian director Bernardo Bertolucci discussing one of his 1972 films, The Last Tango in Paris, resurfaced and caused an uproar. In it, Bertolucci admits that he and the film's leading man, Marlon Brando, conspired to film the movie's infamous "butter" rape scene — in which Brando's character uses a stick of butter to help him rape actress Maria Schneider's character — without the consent of the 19-year-old star. "The sequence of the butter is an idea that I had with Marlon in the morning before shooting," Bertulocci revealed while being interviewed at La Cinémathèque Francaise. Although he said he felt awful "in a way" for his treatment of Schneider, he rationalised it by saying that he "wanted her reaction as a girl, not as an actress."
To be clear, no actual sex took place, but that doesn't make Brando forcing himself on Schneider any less disgusting or OK. "I wanted her to react humiliated," Bertolucci added before saying that he didn't "regret" his and Brando's actions. "I think she hated me and also Marlon because we didn't tell her. To obtain something, I think you have to be completely free. I didn't want Maria to act her humiliation or rage, I wanted her to feel . . . the rage and humiliation. Then she hated me for all of her life." After the film premiered, Schneider went on to struggle with serious depression and drug addiction, and she spoke out about the vile backstory of the controversial scene in an interview with the Daily Mail in 2007:
"That scene wasn't in the original script. The truth is it was Marlon who came up with the idea. They only told me about it before we had to film the scene and I was so angry. I should have called my agent or had my lawyer come to the set because you can't force someone to do something that isn't in the script, but at the time, I didn't know that. Marlon said to me, 'Maria, don't worry, it's just a movie.' But during the scene, even though what Marlon was doing wasn't real, I was crying real tears. I felt humiliated and, to be honest, I felt a little raped, both by Marlon and Bertolucci. After the scene, Marlon didn't console me or apologize. Thankfully, there was just one take."
Adding a troubling new layer to the story is that this news is just gaining prominence now, despite the actress's multiple attempts to bring attention to the situation before her death in 2011. One can assume that the recent heightened awareness about Hollywood's long and seedy history of sexual harassment, sexual assault, rape, and a shocking gender pay disparity is why Schneider's claims are now being taken seriously. Anna Kendrick said as much during a conversation with Chris Evans on Twitter, where she pointed out that she'd seen Schneider's story years ago, saying "I used to get eye-rolls when I brought it up to people (aka dudes)."
Wow. I will never look at this film, Bertolucci or Brando the same way again. This is beyond disgusting. I feel rage https://t.co/uvaLogvv7I

— Chris Evans (@ChrisEvans) December 3, 2016
Ms Schneider stated this several years ago. I used to get eye-rolls when I brought it up to people (aka dudes).

— Anna Kendrick (@AnnaKendrick47) December 3, 2016
had no idea. Woulda felt rage then too. They should be in jail.

— Chris Evans (@ChrisEvans) December 3, 2016
Kendrick and Evans weren't the only celebrities to discuss the matter, either. Jessica Chastain tweeted, "To all the people that love this film- you're watching a 19yr old get raped by a 48yr old man," and although it's unclear whether she is under the impression that forced sexual intercourse actually took place, her sentiment was shared by director Ava Duvernay and actress Evan Rachel Wood (who just last week opened up about how she was once raped).
To all the people that love this film- you're watching a 19yr old get raped by a 48yr old man. The director planned her attack. I feel sick. https://t.co/qVDom2gYf6

— Jessica Chastain (@jes_chastain) December 3, 2016
Inexcusable. As a director, I can barely fathom this. As a woman, I am horrified, disgusted and enraged by it. https://t.co/voGRhafy9K

— Ava DuVernay (@ava) December 4, 2016
I second that. This is heartbreaking and outrageous. The 2 of them are very sick individuals to think that was ok. https://t.co/Ft4SArjcgd

— #EvanRachelWould (@evanrachelwood) December 3, 2016
Update: Now that the news has gained global media attention, Bertolucci released a statement on Monday saying that his words in the 2013 interview had been misinterpreted. "I would like, for the last time, to clear up a ridiculous misunderstanding that continues to generate press reports about Last Tango in Paris around the world," he began. "Several years ago at the Cinemathèque Francaise someone asked me for details on the famous 'butter' scene. I specified, but perhaps I was not clear, that I decided with Marlon Brando not to inform Maria that we would have used butter. We wanted her spontaneous reaction to that improper use [of the butter]. That is where the misunderstanding lies."
He also seemed to discredit what Schneider said during her interview with the Daily Mail, saying that the scene was in the original screenplay. "Somebody thought, and thinks, that Maria had not been informed about the violence on her. That is false! Maria knew everything because she had read the script, where it was all described," he said. "The only novelty was the idea of the butter. And that, as I learned many years later, offended Maria. Not the violence that she is subjected to in the scene, which was written in the screenplay."