Recap Of Gossip Girl Season Two, Episode One "Summer Kind Of Wonderful"
Pop Watch: Gossip Girl, Ep 1 "Summer Kind Of Wonderful"
Finally, it's back!! Did you watch the mostly hilarious premiere episode of season two of Gossip Girl like I did last night? There was a whole lot of plot, and the conversation exchanges were at times mind-boggling. Honestly, I'd forgetten how fast these characters talk — I'm sure I missed some one-liners while I was still laughing at the previous comments. The first three minutes of last night's episode were enough of a recap for anyone, so let's skip it and get to the episode itself.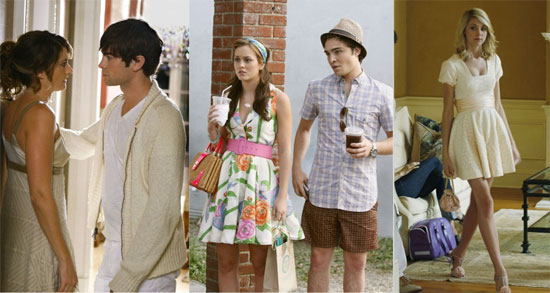 Some of the Hamptons scenes looked gorgeous, like the shot of Chuck and Blair at Serena's grandmother's house under a grove of trees and the final scene of Dan and Serena on the beach with the fireworks overhead. So picturesque!
I'm still giggling at the way Dan and Serena handled their break-up. Serena was essentially "sitting Shiva," as Blair observed, and Dan was dating a different girl every night, according to Jenny. Really? Dan as a player?? Hmm!
To read more of my thoughts on last night's episode, and to leave your own, just read more
Nate's affair with the married woman: not much to say, other than we see his chest a lot. Never a bad thing.
Serena's grandmother is now on the side of good (helping Dan) and Rufus is on tour with his band and making fun of Jack Johnson.
You know, every heavy, unrequited love-type scene between Blair and Chuck had me baffled. Obviously when they're snapping at each other and scheming, it's a lot of fun. And honestly? I just kinda love them
Blair was chock-full of newly minted Chuck-isms including: "Damn that mother-Chucker" and "Chuck Bass-tard." I really loved both of those lines.
Another amazing line from Blair came when Serena's lifeguard date showed up to take her out: "A honk instead of a knock? Did someone order a townie?"
OK, when Blair's man started talking in a British accent, I just about died of laughter. Then he said he was a Lord and... it was even better. So hilariously outrageous, and I LOVED every second of it. There were tears in my eyes.
Did you feel like there were many, many moments that could have ended last night's episode and kept you coming back for more? Like when Blair's man said "I'm a Lord," it should have faded to black. Are you glad it's all tidied up before the kids head back to school in the city? Or do you think it was a little too fast-moving?

Photos courtesy of The CW