Recap Of Gossip Girl Season Two, Episode Three "The Dark Night" Airing On ITV2 In The UK
Pop Watch: Gossip Girl, Episode 3 "The Dark Night"
Series two of Gossip Girl has been ridiculously entertaining and funny. It's like they've turned the craziness up to eleven! It has been over the top and it's definitely not taking itself seriously, and right now I'm loving that — are you enjoying that aspect of the new series so far? Tonight's episode was literally pretty dark after a power cut swept over New York during Blair's party. Here are some of my thoughts: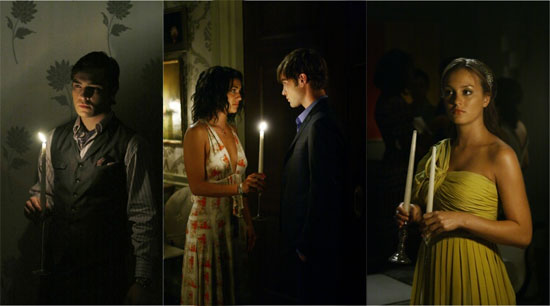 I find the constant talk of Dan and Serena's "issues" pretty amusing. It brings back memories of those school age relationships where every problem was discussed in hushed tones and picked over by friends.
I wasn't sure whether I loved or hated the Dan/Serena fangirls in the park. It was creepy but funny... still, it stopped all the talk between our issue-ridden couple for a second, at least.
The Jenny and Eleanor Waldorf subplot was surprisingly enjoyable, although most of the action took place at the party, with 'mistaken identity', secrets being revealed, and a lot of talking too.
To see the rest of my thoughts on everyone else, as well as having the oppotunity to leave your own, just read more.
As Blair explained, Nate's body is being held hostage by an evil "aging beauty enjoying her last hurrah before the surgeries start". She has a fabulous way with words. So, wow, Nate's a gigolo! Or a sex slave... or something.
Back in Serena/Dan land, which is anything but serene — I just don't get why it riles him that his girlfriend comes with perks that make life a little better. He may have those pesky philosophical objections to the uber-wealthy and the way they get away with stuff the rest of us can't — but, choose your battles, Dan! It's good to get out of a stuck in mid-journey lift as soon as you can, even if you have to name drop to do it!

So, Chuck can't have sex with random girls. Karma, anyone? As always, his fashion choices in this episode were nothing short of sublime.
"Chuck had a Japanese stewardess over today." — Serena sharing with Dan after he asked how her day had been.
Blair also does some scheming around Nate, dragging poor defenceless Vanessa into it — "You think I'm just going to sit back and watch you have an affair on my boyfriend's mother? Guess again!" It's all so tangled already, and we're only on episode three of the season!
Like I said, outside of the party, I really enjoyed the subplot with Blair's mum and Jenny doing a little bonding, particularly where they sent Rufus and his new girlfriend to fetch sandwiches.
This made me laugh out loud — Vanessa asked Blair if she'd seen Nate. Blair's response? "Um, no. It's a blackout."
I nearly choked on laughter when Chuck appeared in the dark bedroom where Blair is waiting for her Lord and speaks in an accent. That is exactly one of the reasons I adore this show.
So are Dan and Serena done for good? I hope so, I mean, I'm all for love, but they are so boring now. Which of the other couples are you crossing your fingers for? Let me know all your thoughts!