Recap Of Lost In Austen Episode One Which Aired On ITV On Wednesday 3 September
Pop Watch: Lost In Austen, Episode One
ITV's four-part drama Lost In Austen kicked off last night, with modern day Amanda walking into the world of Jane Austen. I gave you some details about the premise yesterday, and the majority of you were interested. For those of you who missed it, or want your memory refreshed, here's what went down in the first installment.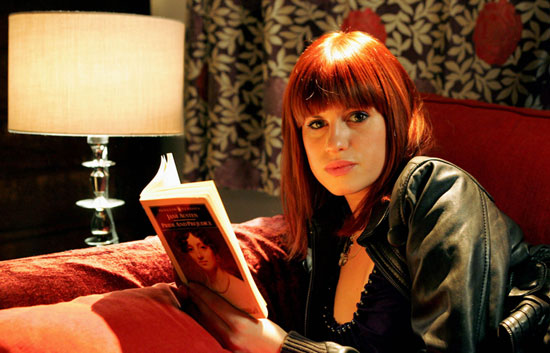 It starts with Amanda explaining how she loves to escape into Pride & Prejudice and we soon see why, when her boyfriend (who's cheated on her) drunkenly proposes and her newly divorced mother tells her to accept, since no-one will live up to the "standards" she's adopted from her favourite novel. So when Elizabeth Bennet arrives in her bathroom, it's no surprise that Amanda is thrilled to meet her heroine. When the women swaps places, however, things start to get more complicated.
To read my thoughts, and leave your own comments, just read more
One of my favourite things about this programme is the little things we learn about Austen's world, from the imaginings of the TV show writer, like when Mr Bennet introduces himself to Amanda as Claude, to the practicalities of life 200 years ago, such as the twig toothbrush and salt and chalk toothpaste.
Amanda (Jemima Rooper) quickly realises that she has a vital role to perform, to ensure that the Bennet family's story plays out as it does in the book. The first problem, of course, is that Elizabeth (Gemma Arterton) isn't there to meet Darcy, but it soon transpires that the big problem is Bingley's interest in Amanda, not Jane. Uh-oh.
Which brings me on to one of the main strengths of the show: the casting. Tom Mison is a great Bingley, all simple and foppish eagerness, and the Bennet sisters fit their roles perfectly. Alex Kingston is suitably flappy as Mrs Bennet, and Hugh Bonneville takes on the attitude of long-suffering Mr Bennet with aplomb. Elliot Cowan was always going to struggle to match up to the lofty heights of Colin Firth as brooding Darcy, but he does a good job in the few scenes he gets, including the ball.
The ball gives us the climax of the episode, with Amanda's plan for Jane and Bingley going disastrously wrong when she gets drunk on punch, goes outside for a cigarette and ends up kissing Bingley. Certainly not the behaviour of an Austen lady, and she's horrified at the potential her presence has to wipe them out. Mrs Bennet also makes her bad opinion of Amanda clearly known.
Amanda still gets no help from Elizabeth, even though she tries talking through the attic door to here. Lizzie does, however, slip a letter through addressed to Mr Bennet, asking him to trust her about Amanda. He talks about how she's always taken the strain of their family.
Jane is also feeling Elizabeth's absence, telling Amanda how her absence is rocking the equilibrium. I think it's going to get even more rocked as Amanda's modern day mores get more and more pronounced! Jane is pleased Amanda is there, though, and there's a real friendship developing between these two.
So the first part ends with Jane riding off to Netherfield, on Amanda's recommendation rather than Mrs Bennet's in this version. Rain, of course, is forecast, but courtesy of Mary we find out that Jane nearly died the last time she got drenched like that. A shocked Amanda runs after Jane as the credits roll. Will Bingley fall in love with Jane as he's supposed to? Or will Amanda continue to catch his eye? And what about Darcy? We'll have to tune in next week to find out...
So there are my opinions on the opening episode, but I'd love to hear your views, so share your thoughts with me.