Recap Of Lost In Austen Episode Two Which Aired On ITV On Wednesday 10 September
Pop Watch: Lost In Austen, Episode Two
After last week's scene-setting opening episode, last night's installment of Lost In Austen picks up the pace and stays entirely in the world of the book. We meet the wicked Wickham, and see some interesting departures from the plot of Pride and Prejudice when modern day Amanda manages to mess up crucial situations.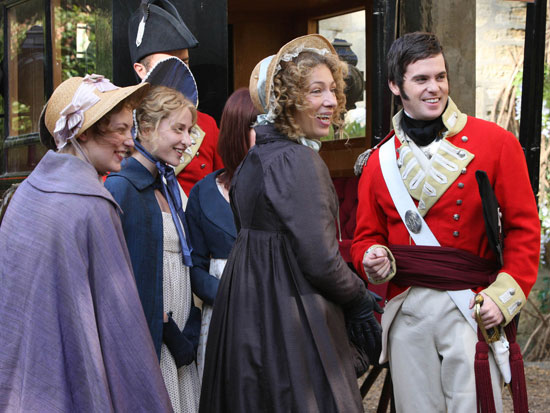 The episode starts at Netherfield, and Amanda aiding Jane's recovery by slipping her a paracetamol. When Bingley makes his interest in our modern day heroine known again, Amanda manages to wriggle out of the awkward situation by telling him she's interested in women. I'm not expecting any Sarah Waters-esque exploration of female sexuality to develop from this, but it would be fun if it did!
To read my thoughts, and leave your own comments, just read more
Amanda has an awkward dinner with Bingley, Caroline and Darcy (whom she calls a "miserable sod"), and then things get even worse when she can't play the piano so they insist she sing for them. She bemuses them with a rendition of "Downtown", which Bingley is amusingly impressed by, and Darcy's cold looks appear to be softening ("smoulder alert"!). However, the following day Darcy reverts to brooding and mean, calling Amanda a liar, and the Bennet women arrive to take Jane home with them.
On the way home their carriage wheel breaks and who should turn up to save the day but wicked Captain Wickham (Tom Riley): boo hiss. He's suitably charming and rogueish, but Amanda's having none of it and later tells him to stay away from Lydia. Jane tells Amanda she should go for Darcy, as her fortune of £27,000 a year dwarfs his £10,000, but Jane feels she isn't "fitted" for Bingley. Come on Jane, pull yourself together.
Mr Bennet's awful cousin Mr Collins arrives, with Guy Henry doing a superb job of being the creepy "all-time king of the mingers" (as Amanda puts it) who is set to inherit Longbourn. Mrs Bennet gives her daughters a pep talk, letting them know in no uncertain terms that one of them must marry him. Amanda tries her hardest to keep Mr Collins from proposing to Jane, and tries to bring him Charlotte Lucas, but her plan goes horribly wrong when the parson misunderstands her and asks Amanda to marry him instead. Uh-oh. Amanda accepts to keep Jane free for Bingley, but Mrs Bennet is outraged and demands Mr Bennet (who says he foolishly married for beauty) throw her out.
Darcy and Bingley arrive at Longbourn and Amanda's voiceover gives one of the best lines of the episode: "If you don't wake up and propose to Jane and I end up married to Collins, I shall have to invent mains electricity and kill myself". Wickham arrives and we get the frosty silence between him and Darcy, with Amanda telling Wickham she knows all about him. Jane is annoyed with Amanda for taking Mr Collins, but Amanda tries to show Jane the right path by sending her off around the garden with Bingley. Amanda has her showdown with Darcy, and as he starts to warn her of his character she fills in the rest of those famous lines for him: "My good opinion once lost, is lost forever". Bingley announces he is to have a ball, so at least that's going to plan.
So on to the ball at Netherfield, where Bingley only has eyes for Jane but is talked out of his affection by Darcy (who calls Amanda "the instrument of Satan") and tells Jane he no longer wants to dace with her. Boo. Wickham spreads a rumour that Amanda's family are fishmongers, which leads Mr Collins to break off his engagement to her. Bad idea, pal, as Amanda knees him right where it hurts, leading Darcy to demand she leave immediately. Amanda has told Darcy she knows about him and his sister and Wickham, so the seed is sown for them to have more in-depth discussions.
Back at Longbourn, Jane's parents comfort her as she cries over Bingley. She turns her attention to Mr Collins are they get married within the fortnight. Argh! This wasn't supposed to happen, and I certainly didn't see this one coming. Amanda tells Bingley he's a fool for letting Jane go, and he replies that he's not a weak man, he just has a friend who is a very strong man. Charlotte Lucas decides she will go to Africa and become a missionary, Mr Bingley leaves Netherfield and Mrs Bennet asks Amanda to leave Longbourn. How will Amanda turn things around?
So there are my opinions on the second episode, but I'd love to hear your views, so share your thoughts with me.