Recap and Review of Skins, Series Four, Episode Three "Pandora"
Pop Watch: Skins — Series Three, Episode Four "Pandora"
This week's episode of Skins focused on Pandora, after the heartbreak of possibly losing Thomas last week. In this episode she wants some fun and decides to throw a party, but for the girls only, so we're invited into her home and meet her mum (played brilliantly by Sally Phillips), but of course the boys won't stay away for too long... Here are some of my thoughts on last night's episode.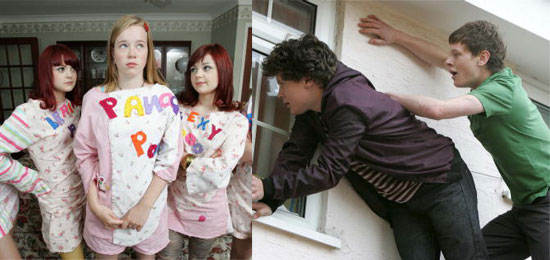 I think Skins is on a roll now, with Thomas's episode last week and Pandora's fantastic episode this week. What do you think?
We've all been there, pining after someone we can't be with. As Pandora said "you can't get a train from the Congo."
Pandora is so amusingly random, but this episode she graduated from being random light relief and we got a real insight into her life.
The comedy element of Steve confessing to Effy's mum that he needed her and her dad's initial misunderstanding that he loved him was funny and then heartbreaking. Poor Effy.
To read more of my thoughts and to leave your own, just read more.
Speaking of, the adults' cameos in this show are superb. Harry Enfield is always good value in this, David Baddiel was great, and Sally Phillips was awesome as Pandora's mum this week.
Katie's footballer boyfriend is so cringe-inducing with his Frank Bruno laugh, and their public PDAs.
Emily and Naomi are slowly working on their friendship... or potential relationship. I like them a lot. Is Naomi protesting too much?
"In this house we do not allow unruly males at parties…" I love Pandora's mum, I hope this isn't the last we see of her.
Pandora's matching pyjamas for all the girls were so amusing!
Of course Cook led JJ to the all girls party so he could perv on them doing all the things he fantasised about. Freddie was absent though, reminding me that the boys' group is still pretty fractured.
Katie put MDMA in the brownies, which led to Pandora's mum being fascinated by the jelly and then rocking out to Bon Jovi's "Livin' On A Prayer". Classic tune!
Pandora got angry at Effy for spiking the brownies and had a go at her about how everything's all about her.
Least subtle / most amusing music cue? "I Kissed A Girl" when Emily kissed Naomi... As JJ looked on.
Cook managed to lock himself in a cupboard upstairs, where Effy joined him for some mindless fun following her argument with Pandora.
Katie's idiot boyfriend showed up with his football team and their girlfriends and took over the party.
Did you feel sorry for JJ freaking out in the corner of the insane party? But good old Freddie came to look after him and has a confrontation with Effy. What a tangled web of crushes.
Effy's moment of almost weakness and apology to Freddie is the most vulnerable we've seen her so far, right?
The tangled web got more tangled when Pandora turned to Cook to teach her about sex, after she taught him about Twister.
Effy saw Cook leaving the next day, and Pandora reveals how she's been feeling and how well she can read her friend. Saying Cook's not the one that Effy wants....
Of course, then Thomas came back (yay!). But just after Cook had left… oh Pandora.
So what did you think? Are you happy Thomas is back? Where do you think the whole Freddie/Effy/Cook thing is going? And Naomi and Emily? So much going on! I can't wait to hear your thoughts.