Recap and Review of Skins, Series Three, Episode Eight "Effy"
Pop Watch: Skins — Series Three, Episode Eight "Effy"
This week's episode of Skins was rather dark and had huge consequences. I'm not sure the gang will ever be the same again, they certainly ended up even more fractured than when they started out. A party in the woods took a dramatic turn, and though the episode focused on Effy, there were changes in store for almost all of them as a result of the events that took place!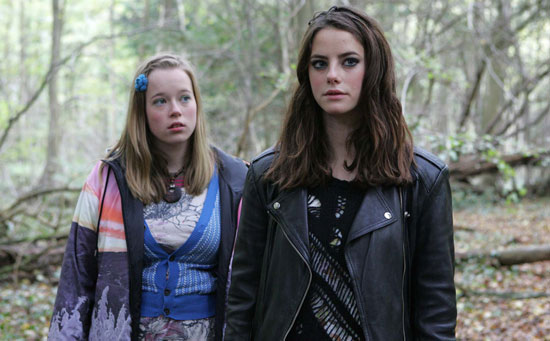 Check out my talking points under the cut, and let me know what you thought of last night's episode! I can't wait to hear your thoughts, just read more.
It's been obvious that Effy's feeling low recently, not helped by her home life. Things with Cook are not going well either, and her crush / love Freddie is dating Katie.
Katie arranges a party in the woods and invites Effy so she can drive them down there, but she didn't want Cook anywhere near the celebration.
Meanwhile, Cook took food to cook at Effy's place, and a cake. Finds out they're having a party without him, from her mum and looks devastated as he says, "I bought a f**king gateau!" For all his flaws, I still really like Cook.
Things took a slightly darker turn when some poachers at a petrol station deliberately scare them, and then chased them down the road. After taking mushrooms they all have fun, until they saw their bags were missing and heard gunshots in the woods. It wasn't the poachers, but Cook, who was messing with them. The poachers were in the distance.
Effy's still high and runs away when all the secrets are spilled — Thomas knows about Cook and Pandora, Effy finds out Pandora's been sleeping with Cook since the party, everyone finds out Effy's in love with Freddie, and Katie storms off too.
Out in the woods, Katie sees Effy and they have a trippy conversation. Effy's still out of her head. It turns into an argument and they fight, culminating in Effy hitting Katie over the head with a rock. And then leaving her out in the woods. Before having sex with Freddie.
Effy gets almost back home before calling an ambulance, and doesn't confess anything to her friends. She then has a breakdown and her mum looks after her. She's so lost, right? But when Katie wakes up in the hospital with nine stitches and tells the gang what happened, Freddie, Katie and Pandora don't want anything to do with her anymore. So she drives off with Cook into the night.
That was such a dramatic episode, right? Is next week's episode going to be completely without Cook and Effy? It certainly looked like it from the promo. I can't wait to hear what you thought!