Recap and Review of Skins, Series Three, Episode Five "Freddie"
Pop Watch: Skins — Series Three, Episode Five "Freddie"
Freddie was the focus of this week's episode of Skins, where we got a closer glance at his family, and the things going on in his head. He's been the quiet, moral pretty boy so far, but I enjoyed getting an insight into his life. I can't wait to hear what you thought of this week's episode, but for now, here are some of my thoughts.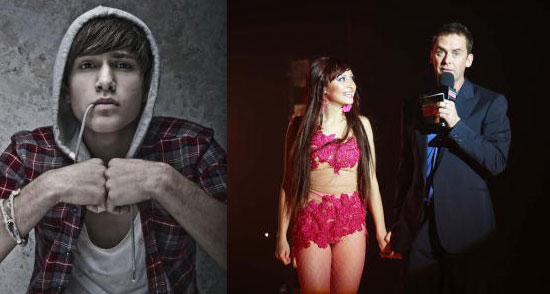 We were introduced to the TV show Search for a Sexxbomb, where Freddie's sister Karen is getting close to the final in the competition. The lyrics throughout all the songs were filthy.
Rich Fulcher from The Mighty Boosh as a judge was seedy as usual, I enjoyed his cameo way more than Javine's.
Freddie's mum has passed away, and he's justifiably offended by his sister appearing to use her death as a way to win votes on the show.
It was a nice, if very unsubtle comment on the pressure on reality TV show contestants to have a "story".
To read more of my thoughts and to leave your own, just read more.
Effy gets invited into the boys' shed with all its... erm... delights. Porn, bottle of pee and all. Effy asks, "Why don't you get your porn on the internet like normal people?"
Freddie is so, so pretty. Also, the three musketeers picture of the boys is awesome.
JJ's social ineptness is hilariously adorable, but he more than makes up for it with his amazing magic tricks.
Cook is so crude to Effy. Just when I really start to like him, he falls back into complete misogyny.
Josie Lawrence was back! I loved her fab interactions with Chris last series.
Those looks between Freddie and Effy, and the hand touching in class was adorable. As was Naomi's encouraging wink.
The funniest line for me came from Effy's dad to her mum, as Freddie and Effy sat listening to their argument — "don't you dare use c*** and Oxfam in the same sentence…" In the context it really made me laugh out loud.
I thought it was a little harsh that Freddie's dad turned his shed into a rehearsal studio for Karen. I really felt for him.
During the quiz at Cook's uncle's pub (where the gang seem pretty comfortable now) JJ tells Freddie that Cook had sex with Karen. Eeeek.
Freddie's dad punching him was a little over the top, but his saying he has his mum's eyes could explain a lot.
Effy's mum seemed to be back in the depression we saw her in after Tony's accident, meanwhile Freddie went to find her at the waterpark. Freddie tells her how he feels and Effy's still so vulnerable.
It was cute when Freddie showed up at the show to support his sister in the final and did his best to get into it. Then he helped look after her when she didn't win the competition.
Cook and JJ show up at Freddie's house, and it turns out Karen lost by 15 votes… and Cook had led everyone in the pub to vote against Karen as revenge for losing the shed to her.
Freddie's angry and headbutts Cook, who kisses him instead of taking the fight further and tells him that he loves him… and JJ follows him out the door.
Freddie arrives at Effy's house and her mum tells Freddie to leave — he sees Cook up in the window with Effy. Seems like she's escaping to someone she sees as not having any feelings, and taking the easy route instead of being with someone who loves her. As we saw last week, Pandora knows.
So what did you think of this week's episode? And the twisted love triangle? I can't wait to hear your thoughts!