Recap and Review of Skins, Series Three, Episode Seven "JJ"
Pop Watch: Skins — Series Three, Episode Seven "JJ"
This week's Skins focused on the mostly quiet, oddball of the group, JJ. We found out about his autism, got a glimpse into what his world and views of his friends are like, and generally got to know a little more about him and his take on the twisted goings on within the gang.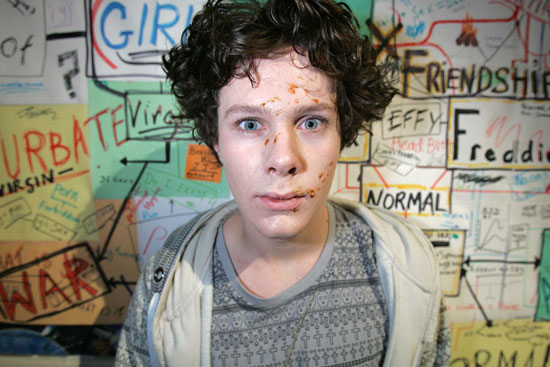 Just like last week, I've compiled a list of ten talking points that you can use as a jumping off point to discuss the episode in the comments. I can't wait to read your thoughts! Just read more.
JJ's autistic and his doctor does not seem to treat him very well, he obviously needs someone to talk to. He's used to being different, and is teased by the kids on his street as well as his closest friends. The huge diagram on his bedroom wall helps him sort out all of his many many thoughts.
While at the doctor's JJ says he doesn't think his friends like him, because they hate each other and don't listen to his thoughts and his feelings. The Cook and Freddie dilemma is getting to him a lot, stressing him out, and making him worry.
I love JJ's newfound close friendship with Emily — after their chance meeting and matching prescriptions at the doctor's surgery, they seem to understand each other. She tells him to ask for things he wants.
Wow, Freddie's sleeping with Katie! I didn't like Freddie's treatment of JJ after he caught them in bed together. A moment of selfishness, although he seems caring most of the time. Cook talks about JJ behind his back too. He's generally disregarded by his friends. But this was the episode he made them take notice.
JJ confesses his feelings for Effy to her, and asks her to stop messing with his friends. Then he mistakenly let slip that Cook's sleeping with someone else.
Cook can still be so disgusting, but I still can't hope liking him a lot. It has a lot to do with Jack O'Connell — he's such a great actor, definitely a talent to watch.
I knew it was all going to go downhill when Cook took JJ's pills, following the failed deal. Especially as a side effect was telling the truth.
Emily confesses to JJ she likes girls, and Naomi pretty much confesses the same to Effy in this episode. I enjoyed Effy and Naomi's bonding moment, and Katie seems almost accepting of Naomi outside the club for once.
Boy, did Cook speak the truth. He tells Freddie that Effy loves him and she can't handle it so she has sex with Cook too. And also confesses he's having sex with Pandora in front of Thomas. Eek.
Emily gets JJ out of his teddy bear pyjamas and has sex with him as a favour. I loved his mum's smile at the end as he saw her son interacting at the breakfast table with a girl. Noticing he was growing up. Such a touching moment to end with.
So, let me know all your thoughts about this week's episode — I can't wait to read them!