Recap and Review of Skins, Series Three, Episode Six "Naomi"
Pop Watch: Skins — Series Three, Episode Six "Naomi"
This week's episode of Skins focused on outspoken Naomi, her unstable home life and her relationships with her Mum, her teacher Kieran, Cook, and last but definitely not least Emily. It's student election time and both Cook and Naomi are standing for student president — Cook has enlisted JJ to help, as Freddie and him still aren't getting on, and Naomi has Emily loyally by her side. I can't wait to hear what you thought about this week's episode, so I've set up a list of talking points under the cut.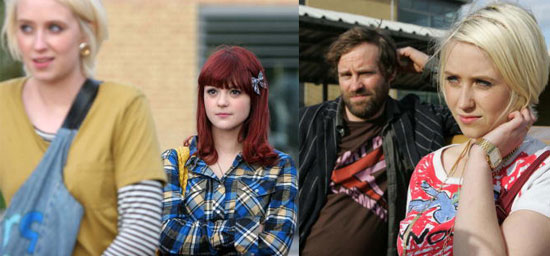 Don't forget to check out FabUK's style quiz, but to discuss last night's episode, and check out the TV talking points I've compiled from our glimpse into Naomi's life, just read more.
Naomi's living situation was awkward, from waking up with a strange man in her bed, all the random people that moved in and out of the house, to her free spirited mum, as Naomi said: "It's like a Christ-themed game of guess who in this house."
Ardal O'Hanlon as Naomi's politics teacher is still one of my favourite recurring characters this series, despite his foolish moves on the blonde. Naomi seemed happy to accept it, but are you in favour of him and Naomi's mum getting together? Or do you think it's weird?
Naomi's initial strained relationship with Cook led partly to her running for president, along with Emily's encouragement, although he assumed that a "deal" was on the table after she said he had more chance with her than winning the student elections. I've pretty much decided I like Cook now, he's messed up in so many ways, but he's kind of charming with it. In the most bizarre way.
There are so many complications with Naomi and Emily — the morning after the couple of nights they spent together, Naomi just couldn't deal with it and disappeared the next day. After they had fun by the lake, Emily's tearful plea to Naomi to be brave as she was leaving was heartbreaking.
Cook's presidential campaign was based on apathy, with ever-loyal JJ at his side. His flyers said Cook Guevera... oh Cook. And his slogan? "I'm Cook, I don't give a f*ck either."
What do you think of Naomi's view of herself being 'all-seeing'? She seems to be with others, but she can't seem to understand herself, but then, deep down, I think she realizes that.
I enjoyed the development of Naomi and Cook's friendship, after he won the election. Especially the hastily halted make-out session in the classroom, which ended with him calling her clever, and her replying, "You're a lot nicer than most people think, aren't you Cook?"
Naomi had a big heart to heart with her mum, where she told her: "When you find someone, you've got to cherish it."
The episode ended with Emily and Naomi talking through the door, with the blonde explaining how she feels when she's with Emily. But she just doesn't seem ready to accept it yet.
So, what did you think of this week's episode? I was left really liking Naomi, and I can't wait to hear what you thought of the things I mentioned in the talking points as well as anything else you want to discuss. Next week's episode is all about JJ, so I'll be back with more talking points next Friday!