Recap Of Secret Diary Of A Call Girl Episode One Which Aired On ITV2 On Thursday 11 September
Pop Watch: Secret Diary Of A Call Girl, Season Two, Ep. One
Billie Piper is back as upmarket escort Belle de Jour in the second series of Secret Diary of a Call Girl. Belle is now an independent escort, who finds herself mentoring new girl Bambi while she continues to struggle with her dual life as Belle/Hannah.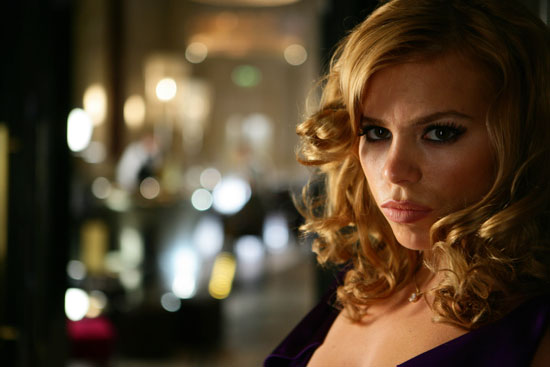 If you didn't see the first series then you can check out a preview to get a feel for the concept courtesy of my girl Buzz, as the show premiered in the States just a couple of months ago. Here in the UK we're on to season two already woop! The format has stayed the same, with Belle taking directly to the camera, a technique used to help bring the voice of the real life diaries on which it is based to the screen. We get some great Hotel Babylon-esque speeded up shots of London, which I love, and there's also a new love interest on the scene.
To read my thoughts on the first of last night's double bill, and leave your own comments, just read more
The series kicks off with Belle waking up just as most Londoners are heading home after work. She is meeting a client called Alex at a hotel bar, and is suitably pleased when she spots an attractive young man on his own at the bar. After he confirms his name is Alex, Belle pops the envelope on the counter in to her bag and suggests they take things to his room. As she checks the money in his ensuite she realises she's made a big mistake, as the envelope contains his passport; this anaesthetist who's in London for a job interview may well be called Alex, but it's the wrong man. Belle makes her excuses and leaves.
She makes her way to the real Alex's room and is met by a middle-aged man who hands her a French maid outfit and treats the situation like a brusque business deal. Once back home Belle discovers she's been followed, as a journalist turns up on her doorstep offering £15,000 for her story; the real Alex is in fact Alan Farringdon, a Liberal Democrat MP. Belle refuses his offer and rushes off to her nephew's christening.
Arriving late at the church, Belle goes through the duties of renouncing the devil as she makes her godmother vows, with ironic looks all the while. The christening scenes are interspersed with a flashback to her meeting with the real Alex, where she stood over him in the bath and relieved herself all over him — oo-er! Her family still don't know about her real profession, so she spends the reception imagining what their reactions would be, with the most amusing being elderly Auntie Blossie saying: "we've all had our fair share of co**, it's nothing to shout about". Heh.
Best friend Ben (why can't these two get back together for goodness' sake?) is also at the christening, but has to leave to get back to Vanessa. Because he called off their impending wedding, she made him move to the Home Counties, no doubt to get him away from Belle. As Ben and Belle approach the glass bowl of petals, which her sister says represents the hopes and dreams of the baby, Belle knocks it off and it smashes. Oh dear.
In the taxi on the way home Belle realises she still has young attractive Alex's passport in her bag. As she slips it under his hotel room door, he opens it and asks for her number. After a bit of persuading she gives it to him, explaining her name is actually Hannah, and Belle is just a nickname. I was pretty surprised about seeing Belle let her guard down like that, but this series will be all the better for a fresh love interest, right?
Belle meets with new girl on the block, Bambi (Ashley Madekwe), who asks Belle for advice about becoming an escort. While Belle excuses herself briefly when the journalist turns up again, Bambi answers her phone and steals one of Belle's clients. I hope she's not going to get herself in to any dangerous situations, she's ridiculously naive. The journalist offers Belle £20,000 this time, and shows her photos of her going to the christening and says they'll run the story anyway, exposing him and her, whether she cooperates or not. Uh-oh.
The next day Belle struggles with the dilemma of a kiss and tell situation, musing on how difficult it is on the girl in these stories, and rushes out to buy all the papers. We cut to her sister's house, and the doorbell ringing. Assuming it will be the papers, Belle's sister asks her other half to answer the door and he calls back from the hallway you'll never believe what your sister's done. Ohmygoodness, has Belle been uncovered? Thankfully not, as he strolls in with a huge bunch of flowers (an apology for destroying the hopes and dreams of her nephew!). Belle breathes a huge sigh of relief when she sees a different woman's face having sold her story on the politician, but recognises that she might not be so lucky next time.
The episode ends with Belle receiving a phone call from young attractive Alex (Callum Blue). He had phoned her the night before asking her on a date and Belle, dreading her imminent exposure in the press, asked him to call back the next day if he was still interested. He is still interested, and calls her back the next morning. Hurrah! I don't see this developing without a hitch, though...
So there's my recap and opinion on last night's season opener. What are your thoughts? Stay tuned early next week for my thoughts on the second episode which aired last night. I'll be recapping after each episode, so keep coming back to chat all things Belle.