Recap Of Secret Diary Of A Call Girl Episode Seven Which Aired On ITV2 On Thursday 16 October
Pop Watch: Secret Diary Of A Call Girl, Season Two, Ep. Seven
Last night's episode of Secret Diary of a Call Girl was the funniest installment so far, with some great one-liners from Belle and Ben, as Belle attempts to leave escort work for an office job to win Alex back, but the love triangle gets even more complicated.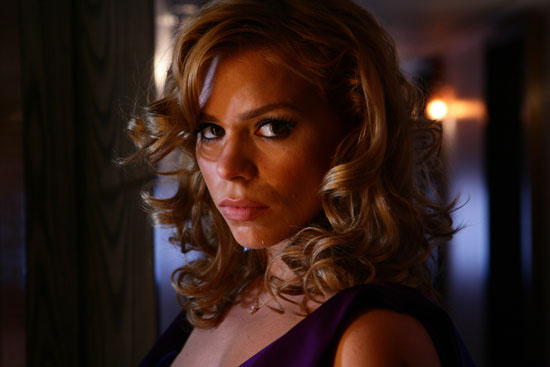 Episode seven starts with Belle packing away all her sex-related outfits and toys because she's "going straight". She meets up with Ben and tells him she's got herself a proper job. When he tries to bring up the fact they had sex in the previous episode, she says it was a mistake and they should forget about it. Ben obviously doesn't want to forget about it. He definitely loves her.
To read my thoughts on the rest of the episode just read more.
Belle invites Alex round to show him how she's changed, but he's all unpleasant like he was when he first discovered she was an escort, saying he's disgusted and appalled, adding "I've never hated someone as much as I hated you that day". Ugh, I'm liking him less and less.
Ben's throwing himself into his work as a barman, and a random woman starts flirting with him. He ends up going back to her place but says he's breaking up with his girlfriend so he's not really in the mood. They get it on anyway. No, Ben, no! When he wakes up the next day he must realise he's made a mistake as he creeps out without waking her. Bad form, Benny boy.
Alex comes back to Belle's flat with the embarrassing situation of needing to use her phone — after he stormed out he realised he didn't have his phone and his car won't start. He can't bear to be in the room with Belle, so he goes and waits in his car. She goes down to him to let him know the recovery guys are going to be late, and convinces him to come and wait in her flat. She says she's going to bed, and then adds, "It's alright, I won't touch you. Well, not unless you pay me". Heh. Good to see she's still got a sense of humour. He says "that's really inappropriate".
Belle oversleeps and when she wakes up she thinks she's got meningitis. Alex is still there, having fallen asleep on the sofa, and tells her not to worry, she's just tired. She's says this is why they should be together, and after she pushes him for a response he replies that they were good together and they would still be together if she wasn't an escort. I understand Belle's hurting, but she's being uncomfortably needy, particularly when you consider how unpleasant Alex has been. Kick him to the curb and get with Ben!
At her new job, Belle has a brilliantly offensive boss, and struggles with the tedious tasks of photocopying and shredding. She says "My problem with the job market is that I'm used to thinking on my back, not my feet". Heh. Unsurprisingly, she quits.
Alex turns up at Belle's flat and continues to be annoying, saying she'd have to make several promises if they were to have any chance of getting back together. Finally she snaps out of the apologetic needy attitude and has a dig back at him, which makes him rush over to her and kiss her. They take it to the bedroom but it's not working for him, as he keeps imagining lots of shirtless men watching them from the foot of the bed (ugh, more of those annoying illusions that I haven't enjoyed this series). He shouts at Belle, but apologises straight away, and says it was too soon.
Ben, who'd been getting drunk at work, turns up at Belle's flat absolutely wasted. He's so hilarious, saying he's been mugged, which turns out to mean some women stole his cans of lager from him, and then he tells Belle "I did a sex on a girl last night"! This has got to be the funniest episode of the series, I was laughing out loud.
Ben then tells Belle she's a crap friend, and that he's broken up with Vanessa because he loves someone else (open your eyes Belle, it's obviously you). Alex wanders out and asks if she's coming back to bed, but Belle says she's going to stay with Ben on the sofa. Good. She realises that it wasn't Belle who was making things complicated, it was her. How's this all going to end in the season finale next week?

So there's my recap and opinion on the seventh episode. What are your thoughts?