Recap Of Skins Season Three, Episode Nine, "Emily and Katie"
Pop Watch: Skins — Series Three, Episode Nine "Emily & Katie"
This week's Skins focused on the twins, Emily and Katie, and we got some insight into their difficult relationship. After last week's dramatic ending Cook and Effy were absent, but the drama was still in full flow. We'll get to see what's going on with Effy and Cook next week, but this week it's all about the twins, Naomi, Freddie and JJ — I can't wait to hear your thoughts!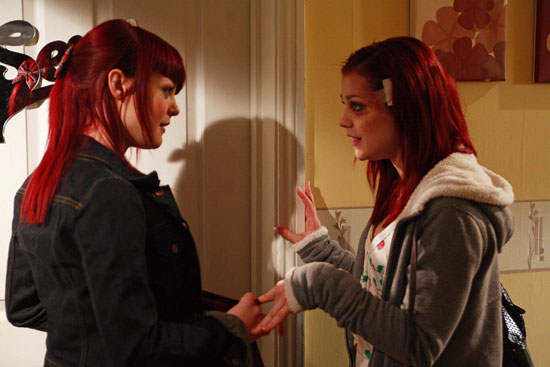 To read my thoughts on last night's penultimate episode of series three and to leave your own, just read more.
Katie's staying at home, recovering from being hit over the head by Effy. Ever the supporter of her sister, Emily dresses as Katie to take an exam for her, with make up on her face to match the bruising.
Naomi kisses Emily at school, she can't keep up her nonchalant act with her for long. Then later, in bed, Emily asks Naomi to the college ball but she says no.
How lovely is Thomas? He gave Emily his shoes and jacket when she was upset. They talk about being hurt by the ones they love — Thomas is still dealing with his Pandora issues.
Ronni Ancona was fab as the twins' mostly disinterested mum, their dad has a huge ego and doesn't listen. Emily comes out to her family at dinner, her mum's face darkens, and her dad doesn't listen.
Katie and Emily have a huge fight where Katie accuses her sister of pretending to be a lesbian because she's jealous of Katie's popularity, Emily fights back about her being used by Freddie and they go to sleep not talking.
The twins' mum confronts Naomi when she calls round to see Emily, saying her daughter is impressionable, and warns her away.
I really loved JJ's babbling in the store when there was all that tension between Freddie and Katie. Bless him.
Freddie spilled the news that Emily sleept with JJ to Katie. In the past Katie's always taken charge, she wants to be in control of Emily's life and she can see she's not here. So Katie tells Naomi, and it really hurts her.
Pandora's dance with the teacher was another fantastic comic moment.
The twins have a showdown at the ball after turning up in a foursome with Freddie and JJ. After a huge physical fight, Emily tells Katie that she's not her — that she's her own person. She finally stands up for herself.
Emily tells Katie she loves Naomi in front of everyone, and Naomi accepts that with a smile. The pair leave in front of everyone, and Naomi tells Emily she loves her too. Finally, something's working out!!
Pandora and Thomas start again, with Thomas reintroducing himself to his ex-girlfriend. That really warmed my heart!
What an uplifting ending! What did you think of this week's episode? I can't wait to hear your thoughts — are you looking forward to catching up with Cook and Effy in next week's season finale? Let me know!