Recap Of Skins Season Three, Episode One, Introducing the New Cast Plus Cameo From Ardal O'Hanlon and Harry Enfield 2009-01-23 06:24:59
Pop Watch: Skins — Series Three, Episode One
Skins returned last night for a third series, this time with a brand new cast and all the swearing, sex, drugs, fun-loving teens and foolish adults that we've come to expect from the show. With Effy Stonem as the new nonchalant queen bee of the college (taking over from her older brother Tony's position in the first series) we met a brand new gang of characters — the three boys Freddie, Cook and JJ, and the girls Naomi, Pandora (familiar from series 2) and identical but oh-so-different twins Emily and Katie. So without further ado, here are a few of my comments on last night's episode: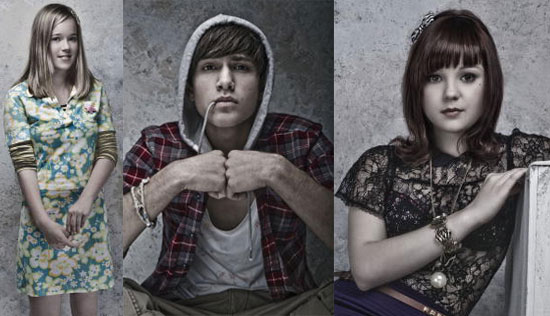 My girl FabUK has a fabulous Style Quiz for last night's episode, so see how much you remember about the fashion and beauty of the girls in the series three premiere!
It was a little weird seeing the new cast in the credits, I kept hankering to see Sid or Cassie or Chris... but that was always going to be the case with this first episode.
How awesome was the beginning of the episode? I loved it, with the rather gorgeous Freddie skateboarding down the street darting into and around traffic, showing that invincible feeling you have when you're sixteen. It was funny too, and had the amazing song by F*cked Up playing in the background. Also, kudos to the writers for not opening with a familiar character — I was surprised we didn't get introduced to the series via Effy.
She arrives when Mr Stonem crashes his car, which showcased Harry Enfield in rather fantastically angry mode, shouting at the passer by. I found it so funny, especially when Cook interjected with the tomato ketchup on his face, pretending that he'd been hit by his car. Still, lager and a spliff at 8 in the morning. Not sure I was buying that.
This Is England's Jack O'Connell plays Cook — he's almost Chris-like, though a little more brash.
To read more of my thoughts and to leave your own, just read more.
The boys are enraptured by Effy — not surprising considering how short her dress is! But Kaya Scodelario is beautiful. JJ has no brain to mouth filter it seems, like Cook, but a little more innocent.
Then we're introduced to Emily and Katie, the redhead twins with slanty fringes. One outgoing, the other — as Effy notes later in the episode — a doormat. They also have an annoying little brother. And Katie's dating this really lame older footballer Danny — good for comedy value though. All the girls seem to fancy him, he laughs like Frank Bruno.
Pandora is still as random as before, "Mum says boys are only after one thing, so my plan is to give it to them. Lots of times. That way I'll get good at it, get really popular..." She's completely led by Effy just as she used to be. Introduces herself to the twins, saying "I'm Pandora... I'm useless."
Naomi Campbell (ha!) has some attitude! I liked her exchange with Cook at the start of the assembly.
Speaking of the assembly — the college theme tune and the cheesy entrance of teachers was very uncool. Though Ardal O'Hanlon as Keiran looks set to be a treat this series.
Cook's flirtation with Naomi leads to him having to pull his trousers down in front of the whole year in their first assembly. Not that he was at all bothered by that. That tattoo? Hideous. Also — I'm glad we didn't see it from the front.
The boys' attitudes to the plethora of new girls to gawk at? "It's just a matter of sorting the wheat from the chavs."
After noticing their amorous glances, Effy sets the boys a challenge — a list of things to do on school premises to win the chance to... erm... get to know her better.
How incredible was JJ's magic? There was fire and water involved! Still, perhaps not the best approach to get what he wanted.
My heart leapt when I saw Sid's name written inside his locker — with a bunch of his old stuff inside. Of course Cook focused on the porn. And then burned it up for the good of Effy's challenge. I guess that really marked the end of that era.
Ardal O'Hanlon's teacher was definitely a highlight for me. "I'm Keiran, and I hate being a f*cking teacher." Really grouchy, with a foul mouth, and endlessly entertaining.
Cook managed to work his way through the list pretty quickly, and got rewarded by Effy. Freddie seems like more of a romantic after his confession in class, and JJ? Well, JJ's just a little naive and young.
I want to know the history between Emily and Naomi — that was intriguing.
All in all not a lot happened, but I thought the episode had a great opening sequence and I'm looking forward to getting to know the characters a little better and finding out about their lives like we did with the first gang.
So will you be tuning in next week? The montage of upcoming clips intrigued me a lot! What did you think of this opening episode, what were your highlights, and who are your favourite characters? Let me know!