Recap Of Skins Season Three, Episode Ten, Series Finale
Pop Watch: Skins — Series Three Season Finale
So that's it, Skins series three is over and we've finished our first series with the new cast. I've grown to love this gang almost as much as the old one, have you? In last night's finale we caught up with Effy and Cook who were absent from last week's episode and found out what they'd been up to since they left Bristol following Effy's violent trip.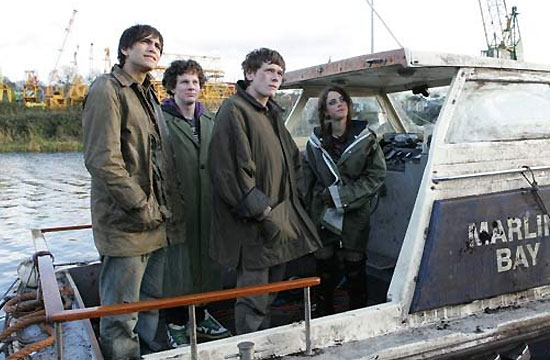 Under the cut I have some talking points to kick off your thoughts and comments, I can't wait to hear what you thought of last night's episode, and the series as a whole! Just read more
Cook took Effy to visit his Dad — played by Matt King, most recently seen in Bronson — who lives on an old boat in a small village. Cook and his dad seem very similar, but Cook's obviously vulnerable around his dad. From the start it's clear that Cook's easily led by his dad, and really wants to impress him.
Back in Bristol, JJ and Freddie's friendship is fractured. Effy's mum talks to JJ — she's worried about her, misses her, knows what Effy's like — she can't let her emotions out.
Cook's dad has a huge tab to pay off at the local pub, the landlord's son Donnie is straight edge — he doesn't smoke or drink, and is therefore the complete opposite of Cook. Donnie captures Effy's attention briefly, and gets into a fight with Cook who's very possessive of Effy.
Effy sees Cook's dad for who he is, that he's been hurting Cook every day of his life, just as she seems to know she'll eventually break his heart.
JJ interrupts Freddie in a rather embarrassing situation — which really made me laugh — and says they need to go find Cook and Effy. Moments later Effy calls and tells Freddie that she loves him, so they travel to find them using the area code Effy called from.
Cook senior gets Cook junior to enter the town steeplechase to pay off his debts at the pub, if he loses though he loses the boat – his home. Freddie and JJ show up, Cook's angry and says if he beats Freddie in the race then he gets Effy. In the end all three boys enter the steeplechase… and to Cook's dismay JJ wins.
JJ gets all of them together to talk — Freddie and Cook and JJ all love Effy. JJ asks her to choose and Cook sees the look between Freddie and Effy — he leaves, devastated. Cook thinks everyone sees themselves as better than him, JJ tells Cook he's not better than him, but that they're both better than his dad.
Cooks dad tries to escape on his boat but Cook catches him and steals the keys, his dad lights a flare and threatens him with it. His dad says he doesn't care if he burns him, Cook says "I don't either…" and Freddie comes out of nowhere and knocks his dad out.
Freddie asks for Cook's blessing for him and Effy to get together, but he can't do it. He loves her. JJ, Cook, Effy and Freddie take the boat with Donnie in pursuit, Cook's dad wakes up, taunts Donnie like we've seen Cook taunt other people so many times before, and Cook pushes his dad into the river.
The series was left open, without Effy making a decision, but all four of them in it together as they sailed off into the sea.
I can't wait to hear all your thoughts about last night's episode, and the whole of series three. I'm sad this season's come to an end, but I can't wait to see what's in store next season... bring on series four!