Recap of Skins Series Four, Episode One "Thomas" Featuring Kaya Scodelario, Jack O'Connell, Lily Loveless, Kathryn Prescott
Pop Watch: Skins — Series Four, Episode One "Thomas"
Last night the brand new series of Skins kicked off on E4, with everyone except Effy starting a new college year. The episode focused on Thomas, played by Merveille Lukeba, and we got to know his family a little more as well as learning about their struggle since they moved from the Congo. Series four also presented us with a new remixed theme tune — check out my summary of the episode, and let me know what you thought of the episode!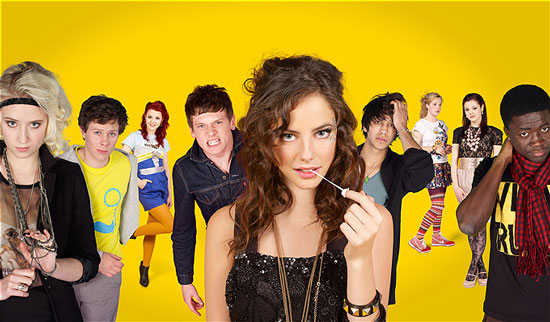 To read more about episode one, and to leave your thoughts, just read more.
We meet up with the gang at a club, where the camera followed an previously unknown girl around the party. Thomas is DJing, and the series kicked off with a bang as the girl jumped off the balcony and killed herself in front of the clubgoers.
Thomas and the club owner meet with the police, and an investigator played by Pauline Quirke. The girl was on drugs, and underage, plus the club was over capacity — the owner denies all knowledge. When she left, the owner paid Thomas to keep his mouth shut.
Back at Thomas' house, his mother is worried and disapproving of his relationship with Pandora, and his brother is sick — because of living conditions.
There was a new college director, David Blood, who decided he was there to bring some change. On the first day back, the police come in to interview all students about the incident at the club.
The gang's all there except for Effy, who is still missing. JJ wants them not to focus on her, after she "dumped them all" at the end of the last series.
At school, Cook flushes drugs down the toilet. Thomas thinks Cook sold the girl drugs and they get into a fight.
The accident makes Thomas think about his life, and he meets a singer, Andrea, from his church. They become fast friends, and then more than friends, and he cheats on Pandora with her.
Thomas gets into a fight with Cook in front of Naomi, who admits that she was the one who sold drugs to the girl, Sophia.
Back with his family, Thomas uses the money to put a deposit on a house for his family.
Effy shows up at Pandora's place and gives her friend advice to not take Thomas back yet.
So, what did you think of last night's Thomas-centric episode? Let me know!