Recap of Skins Series Four, Episode Two "Emily" Featuring Kaya Scodelario, Jack O'Connell, Lily Loveless, Kathryn Prescott
Pop Watch: Skins — Series Four, Episode Two "Emily"
While last week's opening episode was about Thomas, this week on Skins we got to see into Emily's life as she dealt with her family, her Mum's still hostile reaction to her relationship with Naomi, and discovered a lie her girlfriend had told her concerning the accident at the beginning of episode one! Cook takes centre stage next week, but for this week's ep — check out my recap, take FabUK's quiz and leave your thoughts below!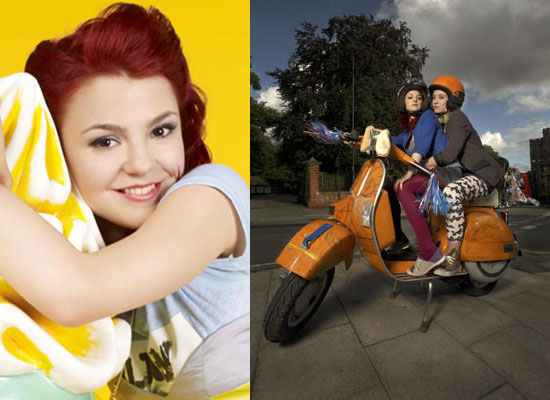 To check out my recap, and leave your thoughts, just read more.
Last week Naomi sold MDMA to a girl in a club who threw herself off a balcony, and died. Her name was Sophia Moore.
Emily and Naomi are called to see the police for further questioning, Naomi lies, saying that they were only at the party for ten minutes. Consequently she has to tell Emily she sold Sophia the drugs.
Emily is torn up by this, compared to Naomi and Cook who also know, so she goes to see Sophia's devastated mum and uses the name Nancy. Despite Emily not knowing her, Sophia's mum mentions Naomi and Emily to her.
Did you spot H from Steps as one of Emily mum's workmates?!
Emily takes a University brochure from Sophia's room, and sees a picture of Naomi and Sophia inside, taken at an open day. This hurts on two levels, as Naomi is supposed to be going travelling with Emily after their A-Levels are done.
Naomi and Emily argue about it, and eventually go to Sophia's cadet locker — which Emily found the key for in the brochure. The locker is a shrine to Naomi. She was obsessed with her. Naomi maintains she didn't really know her.
Sophia's brother works out who Emily is and tracks her down. Sophia left a note for him. It was suicide.
At a house party Cook gets into a huge fight, we'll see more on the aftermath of this next week.
Emily goes to meet Sophia's brother at the club with the box that she found in Sophia's locker. Naomi hears she's meeting him, shows up and asks them to leave it alone.
Inside the box is a hand drawn comic book where Sophia's drawn the story of her and Naomi. Naomi cheated on her with Sophia.
Emily is devastated. She goes home and her dad comforts her, confessing he cheated on her mum once when they were young and she forgave him eventually. He says, "People do stupid things when they're trying to act like they're not trapped."
At the end of the episode Emily showed up at Naomi's house to see her...
What did you think of this week's episode? I can't wait to hear all your thoughts!