Red Carpet Arrivals At The Oscars 2008 2008-02-24 23:41:08
Mums To Be And More Shine On Oscar Red Carpet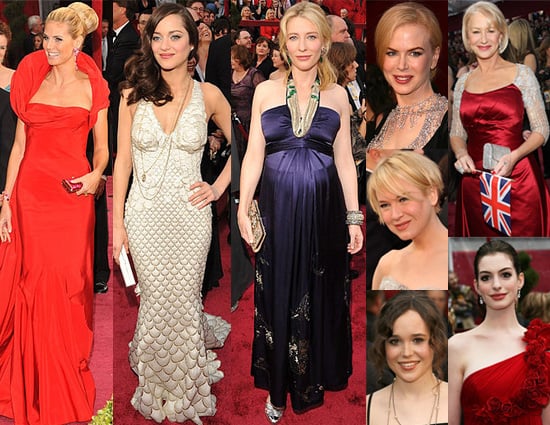 1
Mums To Be And More Shine On Oscar Red Carpet
This is it – the ceremony we've all been waiting for. All those other awards shows are really just a build up for this, the big one,
The Academy Awards 2008
. So which gorgeous girls wowed on the Red Carpet last night? Helen Mirren, Heidi Klum and Anne Hathaway
looked red hot
, Ellen Page, Jennifer Garner, Penelope Cruz and Tilda Swinton stuck to
anything-but-basic black
, whereas pregnant Cate Blanchett and Jessica Alba went for perfect purple tones.
Fab
and
Bella
have love it or hate it polls, and
Buzz
has the winners, but for a sum-up of the ladies of the red carpet then stick with me. There are so many more pics to see, including Vanessa Paradis, Renee Zellweger, Nicole Kidman, Hilary Swank, Katherine Heigl, Diablo Cody and many many others, so just . Nicole Kidman Cate Blanchett Vanessa Paradis Ellen Page Julie Christie Calista Flockhart Renee Zellweger Penelope Cruz Hilary Swank Jennifer Hudson Tilda Swinton Marion Cotillard Cameron Diaz Saoirse Ronan Helen Mirren Diane Lane Katherine Heigl Jennifer Garner Jessica Alba Heidi Klum Amy Ryan Diablo Cody Keri Russell Kristin Chenoweth Laura Linney Sarah Larson Anne Hathaway Amy Adams Kelly Preston Miley Cyrus Keisha Whitaker Shaun Robinson Lisa Rinna
Source
and
Source