Red Carpet, Show and Backstage Photo Galleries and List of Winners from the 2010 Critics Choice Awards in Los Angeles
Gowns, Kisses and Fisticuffs at the Critics' Choice Awards
The weekend kicked off with the Critics' Choice Awards in Los Angeles, with a star studded lineup walking the red carpet. It was a fun ceremony, with the youngest Jonas Brother's band — Nick Jonas and the Administration — playing as the house band for the night, with older brother Joe showing his support, while Pushing Daisies star Kristin Chenoweth hosted the show itself. Meryl Streep and Sandra Bullock tied the Best Actress ceremony, with Sandra planting a big kiss on Meryl as they went up to the podium to collect their awards.
During a tribute to the movie Pretty in Pink, John Krasinski and Amy Poehler dressed up as characters from the movie, earlier John walked the red carpet with his fiancee Emily Blunt who looked gorgeous in silver. Julianne Moore and The Hangover's Heather Graham showed up in the same shade of red, while fab Brit actress Carey Mulligan wore black, as did Twilight and Up in the Air's Anna Kendrick. It wasn't all schmoozing though — Sir Paul McCartney and Woody Harrelson got into a friendly bout of fisticuffs while in the audience! Check out the full list of winners as well as many more fantastic photos from the event under the cut!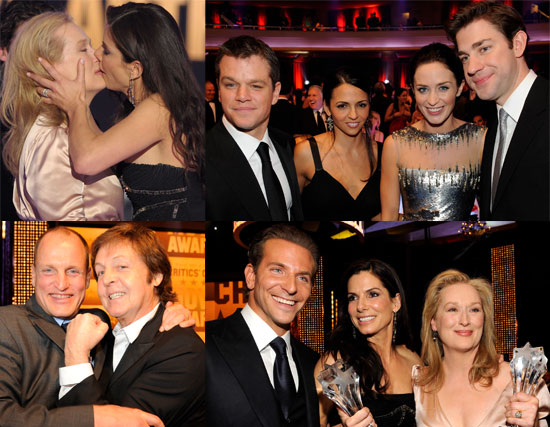 For a full list of winners, and many more photos, just read more.
BEST PICTURE
The Hurt Locker
BEST ACTOR
Jeff Bridges, Crazy Heart
BEST ACTRESS
Tie: Sandra Bullock, The Blind Side and Meryl Streep, Julie & Julia
BEST SUPPORTING ACTOR
Christoph Waltz, Inglourious Basterds
BEST SUPPORTING ACTRESS
Mo'Nique, Precious
BEST ACTING ENSEMBLE
Inglourious Basterds
BEST DIRECTOR
Kathryn Bigelow, The Hurt Locker
BEST ORIGINAL SCREENPLAY
Quentin Tarantino, Inglourious Basterds
BEST ADAPTED SCREENPLAY
Jason Reitman and Sheldon Turner, Up in the Air
BEST ANIMATED FEATURE
Up
BEST YOUNG ACTOR/ACTRESS (Under 21)
Saoirse Ronan, The Lovely Bones
BEST ACTION MOVIE
Avatar
BEST COMEDY MOVIE
The Hangover
BEST PICTURE MADE FOR TELEVISION
Grey Gardens
BEST FOREIGN LANGUAGE FILM
Broken Embraces
BEST DOCUMENTARY FEATURE
The Cove
BEST SONG
"The Weary Kind" (Ryan Bingham and T Bone Burnett), Crazy Heart
BEST SCORE
Michael Giacchino, Up
BEST VISUAL EFFECTS
Avatar
BEST CINEMATOGRAPHY
Mauro Fiore, Avatar
BEST COSTUME DESIGN
Sandy Powell, The Young Victoria
BEST MAKEUP
District 9
BEST SOUND
Avatar
BEST ART DIRECTION
Rick Carter and Robert Stromberg, Avatar
BEST EDITING
Stephen Rivkin, John Refoua and James Cameron, Avatar
Images include: Nick Jonas, Bailee Madison, Emily Blunt, Jena Malone, John Krasinski, Christian McKay, Diana Kruger, Zac Efron, Amy Poehler, Kristen Bell, Zoe Saldana, Sir Paul McCartney, Sandra Bullock, Saoirse Ronan, Carey Mulligan, Marion Cotillard, Anna Kendrick, Gabourey Sidibe, Chris Pine, Woody Harrelson, Mo'Nique, Heather Graham, Joe Jonas, Josh Duhamel, Jason Reitman, Ed Helms, Bradley Cooper, Meryl Streep, Zachary Quinto, Morgan Freeman, Stanley Tucci, Ben Foster, Kristin Chenoweth, Joseph Gorden Levitt, Jeff Bridges, Susan Sarandon, Jason Bateman, John Cho, Eli Roth, Justin Bartha, Claire Danes, Matt Damon, Tobey Maguire, Kathryn Bigelow, Abbie Cornish