Review of Adele, Damien Rice and Angus and Julia Stone at Union Chapel, Little Noise Sessions, Tuesday 11 November 2008
Pop Reports: Adele and Damien Rice at Union Chapel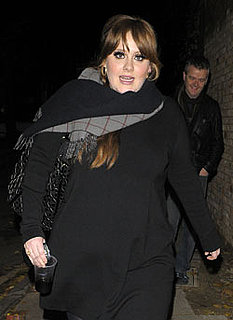 Jo Whiley's series of gigs at Union Chapel continued last night with Adele, Damien Rice, Angus and Julia Stone and a special surprise guest: Jo's newborn baby Coco Lux.
The Little Noise Sessions are held annually in aid of Mencap, and the gorgeous North London venue is a wonderful setting for an intimate gig. The Killers, Razorlight and Stereophonics have performed at the chapel this week, and I was fortunate enough to catch last night's show.
Adele headlined and proved just how outstanding her voice is, singing tracks from her debut album, 19, as well as a powerful cover of Etta James' "Fool That I Am".
Jo was thrilled to introduce Adele, telling us what a big fan she is of the recent Live Lounge performer. Adele sang Jo's favourite track from 19, "Make You Feel My Love", and charmed the crowd with her down to earth attitude. She joked between songs, talking about how nervous she felt, and about her recent appearance on Saturday Night Live alongside Sarah Palin. Adele also told the crowd how surprised she was that Laura left The X Factor, and how she might duet with her in the future!
To find out more about the Damien Rice's set, just read more.
Damien Rice performed a set before Adele came on stage, and the crowd were clearly massive fans of the singer songwriter's material. He gave us often hilarious anecdotes about the background to each song he performed, including "Amie", "Cannonball", "The Professor", "Delicate" and "The Blower's Daughter". Taking advantage of the great acoustics in the chapel, he abandoned the PA system and microphone for his final song, and wowed the crowd with his first-class performance.
Brother and sister duo Angus and Julia Stone opened the evening with a charming and kooky performance. They're definitely ones to watch.
The evening was made that little bit more special thanks to the appearance of Jo's two week old baby, Coco Lux. Jo brought her on stage before Damien's set and told us what a big fan she is of the Irish musician. Amazed that Coco had slept all through Damien's set when she returned to the stage, Jo joked that Coco had heard so much of his music "in utero" that she must be totally fed up with it! Last night's audience, however, couldn't get enough of the great songs from all three acts.