Review of Brideshead Revisited ITV Series Collectors Edition DVD
Pop A DVD In: Brideshead Revisited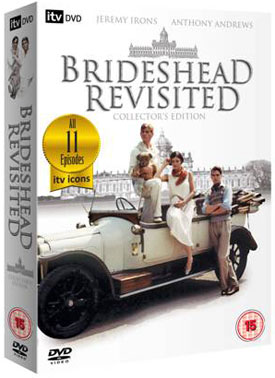 We finished reading Evelyn Waugh's Brideshead Revisited this week as our first PopUK Book Club title, and this month a special collectors edition box set of the award-winning ITV series was also released, ahead of the new film version's release on Friday.
The four disc box set contains the entire collection of 11 episodes, filmed on location at Castle Howard in North Yorkshire and first broadcast in 1981.
The adaptation stars Jeremy Irons as Charles Ryder, Anthony Andrews as Sebastian, Dianna Quick as Julia, Sir Laurence Oliver as Lord Marchmain, Claire Bloom as Lady Marchmain and Sir John Gielgud as Edward Ryder.
Brideshead Revisited chronicles Charles Ryder's connection with the complex, aristocratic Marchmain family, from his Oxford days with Sebastian to his relationship with Julia ten years later. Dealing with issues of class, religion and duty, it is also a story about the forms of love we can have for friends, for lovers and for a way of life.
To find out more about the DVD rerelease just read more.
This adaptation won seven BAFTAs, an Emmy and a Golden Globe and stands the test of time even now. Spread over 11 episodes, you get the chance to savour the characters and the plot at a leisurely pace. The new Miramax film adaptation, which premiered last night and hits our cinema screens this week, has a lot to live up to.
DVD extras include commentaries, stills galleries and a "Making Of" documentary.