Review of Lost in Austen DVD
Pop A DVD In: Lost in Austen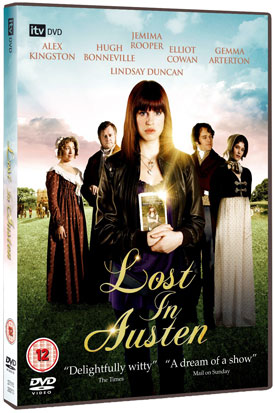 If you missed the hugely entertaining Lost in Austen on ITV then fear not, as the series is released on DVD today!
The four-part drama takes Jane Austen's Pride and Prejudice and mixes it up by throwing in a modern day woman, Amanda Price (Jemima Rooper).
Amanda, who swaps places with Elizabeth Bennet (Gemma Arterton) thanks to a secret portal, tries her best to keep the plot of her favourite novel on course, but she can't control the action as bizarre new twists start to emerge.
There are lots of laughs too, from Amanda's one-liners to Alex Kingston's portrayal of the hysterical Mrs Bennet. The impressive cast also features Hugh Bonneville as Mr Bennet and Lindsay Duncan as Lady Catherine De Bourgh.
To find out more about the DVD release just read more.
The locations are wonderful, with beauties such as Allerton Castle, Harewood House, Weston Park and Bramham Park representing Lady Catherine's Rosings, Darcy's Pemberley, Bingley's Netherfield and the Bennets' Longbourn.
The highlight for me was the relationship between our modern day heroine and Darcy. Elliot Cowan does a great job, making it hard to decide who I prefer in the role out of him, Matthew Macfadyen and Colin Firth. Who is your favourite Darcy?
DVD extras include interviews and a "Making Of" documentary. Lost in Austen is fun and innovative, and I'd recommend it as a worthy addition to your DVD collection.