Review of Madonna's Sticky and Sweet Tour in London
Pop Reports: Madonna at Wembley Stadium
The Queen of pop has outdone herself again with another enchanting concert performance. Last night, the 50 year-old danced, sang and cheered at London's Wembley Stadium, her eighth stop on the European leg of her Sticky and Sweet tour. The concert lasted for two hours and was broken down into four sections with intricate video interludes filling the time for stage and costume changes.
Having seen Madonna for the fourth time, I can attest to her energy level being higher than ever before. Highlights of the show were rock renditions of "Borderline" and "Hung Up" (both incredible), "4 Minutes" and the finale, "Give It 2 Me". I loved how she used the tick-tock riff from "4 Minutes" intermittently, just to tease the crowd.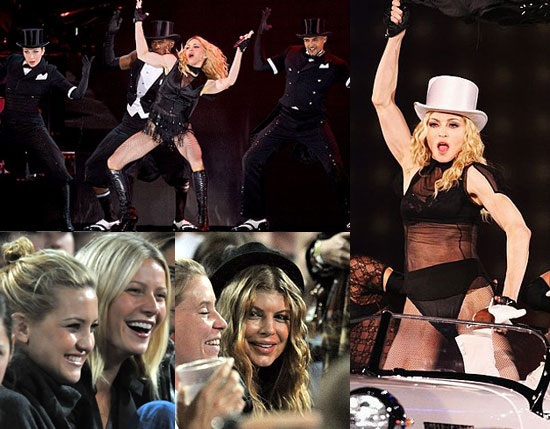 Also, in the tracks where Madonna's friends (Justin Timberlake, Britney Spears, Kanye West and Pharrell Williams) join her, she had giant video screens with them dancing and singing in the background — a fun and exciting touch (even though I think everyone was secretly hoping they would make a cameo appearance).
Before the finale, she took requests and wound up playing a bit of "Express Yourself" with the help of the audience. The concert was one of the best I've ever seen, and despite the absence of oldies but goodies ("Like A Virgin" and "Holiday" to name a few of her 39 US number one hits), the show was exciting and action packed.
Madonna will always be a favorite of mine, after all, she helped us bring Katie Sugar into the world, and judging from the star-studded audience (Gwyneth Paltrow, Kate Hudson, Fergie — and I even bumped into Katy Perry and Mika on my way to the loo), she will continue to be infinitely popular and respected among her peers and the public for years to come.
For additional photos and to see the set list, just read more.
Intro/Candy Shop
Beat Goes On
Human Nature
Vogue
Die Another Day
Into The Groove
Heartbeat
Borderline
She's Not Me
Music
Rain/Here Comes The Rain Again
Devil Wouldn't Recognize You
Spanish Lesson
Miles Away
La Isla Bonita/Lela Pala Tute
You Must Love Me
Get Stupid
4 Minutes
Like A Prayer
Ray Of Light
Hung Up
Give It 2 Me (Finale)