Review Of Rain Man at The Apollo Theatre In London Starring Josh Hartnett and Adam Godley
Pop Reports: Rain Man at The Apollo Theatre
Last night (with Lipstick Jungle on record) I took a trip to the theatre to see one of the first performances of Rain Man in the West End, starring Josh Hartnett and Adam Godley. The play is an adaptation of the movie starring Dustin Hoffman and Tom Cruise, about a selfish young guy named Charlie Babbitt, whose rich father dies and leaves him very little. The money goes into a trust for an older brother he didn't know he had, autistic-savant Raymond, who he takes on a road trip across the States.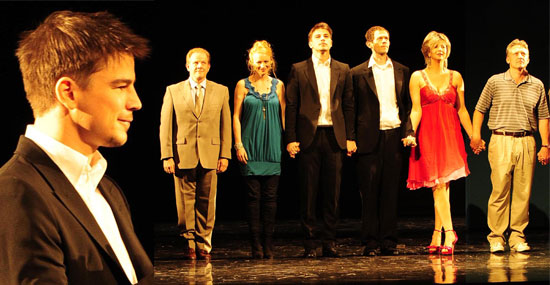 Hartnett takes on the role of Charlie in his West End debut, and — let me get this out of the way first — is ridiculously gorgeous in his Armani suit. Charlie's a fast-talking, swearing-mad, permanently angry character when we first meet him at work.
At this very early stage in the run, Hartnett's extended pauses after other characters finish speaking sometimes feel like he's counting to ten in his head instead of thinking about what the other person's saying. Occasionally I found myself wondering if he'd forgotten his lines, before he quickly came in word perfect with the next one. A little more emotion or movement in these pauses would improve his performance, especially in the first half, and I'm sure as the run progresses he'll become more confident in these silences.
To read more of my thoughts on the play, as well as a video of Adam and Josh discussing it, just read more.
After Charlie meets Raymond, however, the character begins to soften and Hartnett reflects this well. A couple of the scenes between the two men were really touching, and I could feel the audience were completely behind them and their performances.
Adam Godley's (Charlie and the Chocolate Factory) Raymond is predictably the stand out performance, he manages to keep a character that could too-easily become a caricature firmly in the realms of reality. He brightens up every scene he's in and yet to my mind gives a more comprehensive performance than Dustin Hoffman did in the movie — it really is a little odd when he comes out to take his bow with completely different posture and look in his eye. The more time the two actors spend together on stage seems to infuse Hartnett with more confidence as the play progresses, the second half was infinitely more confident than the first, and by the final touching scene I was almost completely won over.
I'm looking forward to seeing this play again a little later down the line in its run. At this stage I'd recommend it as a good play, with touching and comic moments and some strong acting. But by making the first half as confident as the second, it will be vastly improved.
(Also — Josh Hartnett? Still gorgeous. And in his underwear at one point.)
Josh and Adam discussing Rain Man