Review of Smart People
Pop A DVD In: Smart People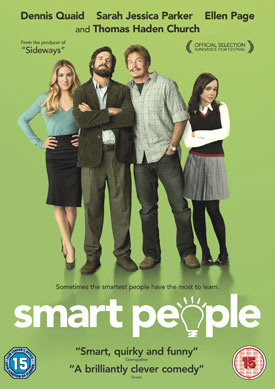 Smart People is a blackly comic drama set in Pittsburgh, which focuses on widowed professor Lawrence Wetherhold (Dennis Quaid), his study-mad daughter Vanessa (Ellen Page) and his student poet son James (Ashton Holmes).
Lawrence struggles to communicate with his family and his colleagues at the university where he teaches literature, even though his is a "smart person".
When his adopted brother Chuck (Thomas Haden Church) moves in, the slacker brings some much needed warmth in to the family, which is further improved when Lawrence gets involved with another "smart person", Dr Janet Hartigan (Sarah Jessica Parker).
To find out what I thought about the film just read more.
Smart People provides a detailed examination of dysfunctional family life, and as such is full of downbeat characters and miserable moments. Lawrence in particular is a mope-fest, and it is difficult to really care about his character. I expected him to become more human once he got involved with Dr Janet Hartigan, but the warmth comes too late to have really rooted for a happy ending for these characters.
It's not all downbeat though, and there are quite a few blackly comic moments which brought a welcome smile to my face. We are provided with some witty dialogue in the family arguments, particularly from Vanessa — it certainly looks like Ellen Page relished the chance to put that Juno-esque acerbic tongue in to action again.
Thank goodness, then, for adopted brother/uncle Chuck. Thomas Haden Church does a great job as the supposed idiot amongst the smart people, and makes Chuck the character I cared about most. His growing relationship with Vanessa provides some laughs and some of the more complex aspects of the familial dysfunction, too.
I have to agree with my girl Buzz's review of this film — Smart People does have a lot going for it, especially its great cast, but it could have been that bit better.
Smart People is available in the UK on DVD by Icon Home Entertainment now.