Robbie Williams and Max Beesley Rumoured To Join Gordon Ramsay On Kitchen Nightmares
Robbie and Max To Join Gordon?
It is reported that Robbie Williams and pal Max Beesley are planning a special episode of Ramsay's Kitchen Nightmares. I really hope this show does go ahead, as the mix of these three men sounds like TV heaven to me. Robbie and Gordon have worked together before, or played together rather, as they captained opposing teams in the England vs Rest of the World Soccer Aid match in 2006.
Max, who is staying at Robbie's place in LA, said: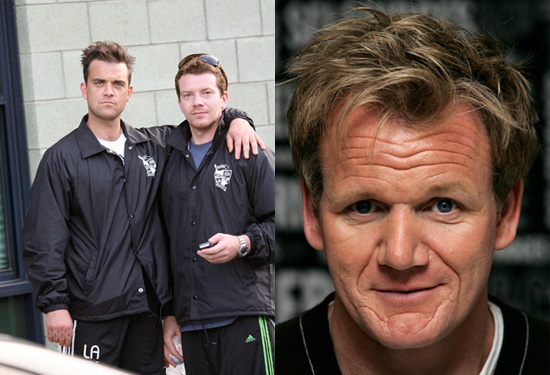 "There are plans for me and Robbie to work together.

"We might do a Ramsay's Kitchen Nightmares special. I'm a big foodie so I said I wouldn't mind Gordon's tongue-lashings."
For more on Robbie, Max and Gordon just read more
It would be great to see Robbie back in the public eye, as he's been pretty quiet of late (you can test how much you remember about him here). At the other end of the scale, Gordon's never far from our TV screens — Kitchen Nightmares USA is currently showing on Channel 4 — and he was Yum's male-celebrity chef of 2007.
As for the third member of this rumoured trio, if you can't wait to get your fill of Max Beesley then tune in to BBC1 on Tuesday when Series 3 of Hotel Babylon starts. American Idol fans might be interested in the celebrity cameo too ...